Winebuddy 30 Bottle Wine Kit - Pinot Grigio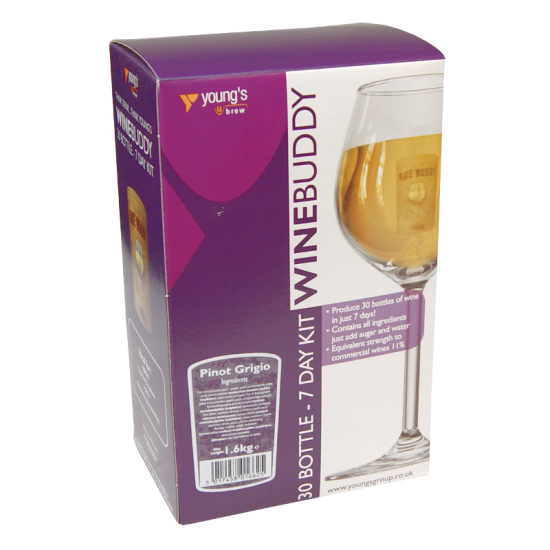 Winebuddy 30 Bottle Wine Kit - Pinot Grigio
Ingredients To Make 30 Bottles Of Pinot Grigio.
Ferments In 7 Days & Comes With Full Instructions.
Kit Includes - 1 x Concentrate Bottle - 1 x Yeast Nutrient - 1 x Stabiliser - French Oak Chips - Finings.
You Will Require 4Kg Of Sugar Or Brewing Sugar, Basic Brewing Equipment For 30 Bottles Of Wine.
Tony's Tips,
30 Bottles of perfectly Quaffable wine in just 7 days! Of course the longer it's left in the bottle (before opening!) the better it will be, however, at around £1 per bottle it's a great value kit in the style of Pinot Grigio.  It can also pay to "Brew Short" by reducing the amount of water in the mix to say 20 litres . . . . and if you really want to boost the character of this wine and "make it your own" as they say on TV Reality shows like the X Factor and Strictly Come Dancing, then introduce some extra Grape or Fruit juice to compliment the taste such as VinClasse Red or White Grape Juice Concentrate, or for a more complex finish try adding controlled amounts of Young's Country Definitive Peach, Elderflower or Blackberry kits as desired. Plenty of experiments to enjoy here! So take careful notes . . . . . all  wine making equipment and ingredients are available on the Balliihoo website.