Harris Filters - Vinbrite Wine Filter Kit MkIII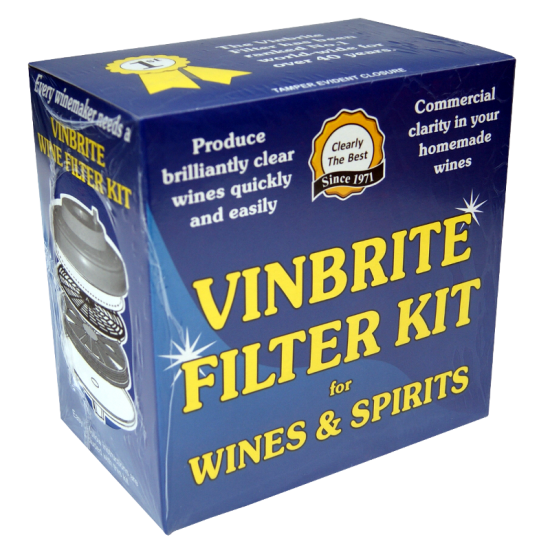 Harris Filters - Vinbrite Wine Filter Kit MkIII
The VINBRITE MK3 kit includes a filter body, support disc, locking ring,  funnel, spanner, transfer tube, flow control clip, 6 Crystalbrite filter  pads together with full instructions.
The Vinbrite Mk3 kit incorporates Premium grade Crystalbrite pads and venting system. Achieving a much faster flow rate whilst also producing an increased amount of filtered wine.
Tony's Tips
It's a fact! Most Purchased wine has been filtered to create a totally Clear, Polished, Quality looking and tasting wine, that will sell well and be irresistable thus maximising profits! So it makes sense to similarly filter our Home-made wine to remove any or all unwanted Haze particles, Yeast Cells and even possibly Bacteria for a truly professional finish. The wine will also be more stable and will not re-ferment in the bottle after filtration.

The best way to ensure perfection is to syphon the wine to another vessel prior to filtering to remove the sediment, and then after filtering, leave the wine to settle for a few days before bottling. To speed the filtration process it helps to raise the wine to be Syphoned  as high as possible above the filter to increase the gravity pressure.
The Harris - Vinbrite Wine Filter kit is constantly updated to remain at the forefront of Wine Filtration World-wide.