Buon Vino Mini Jet - Electric Wine & Beer Filter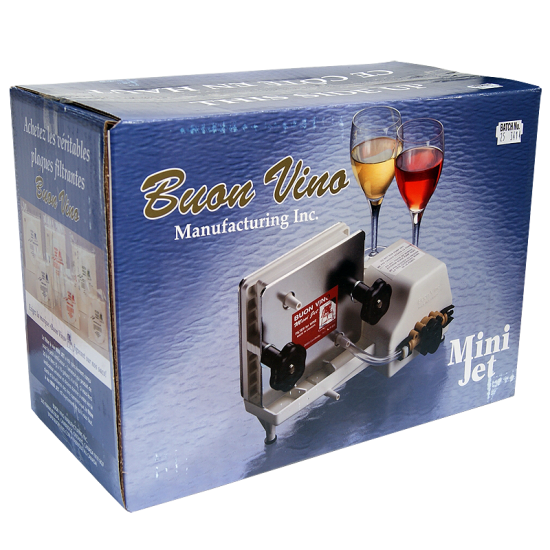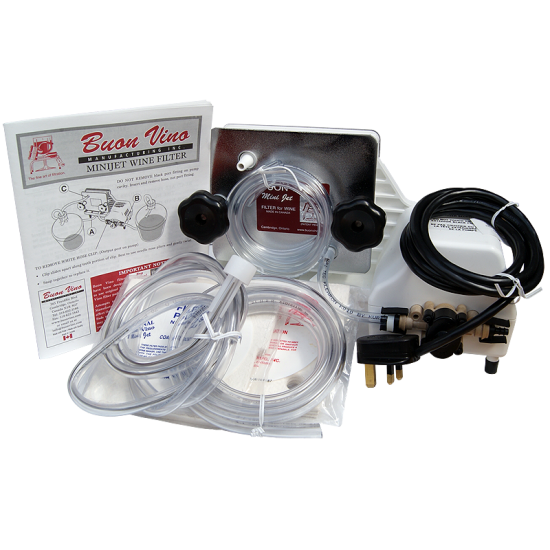 Buon Vino Mini Jet - Electric Wine & Beer Filter
The Buon Vino Mini Jet has been designed with the small quantity winemaker in mind. It is the perfect way for the home hobbyist to produce a wine with a commercial shine. Perfect for the home winemaker who filters 23L (5 Gallons) at a time from kits.
Its compact design incorporates a self-prime motorized pump capable of filtering up to 20 litres in 15 minutes. A built in drip tray and drainage tube ensure a no mess, no fuss clean-up job.
Self Prime Pump & Incorporated Motor.
Filtering Surface 465 Square cm - Filtering Time: 15 Minutes Per 20 Litres (Approximate).
Dimensions: 30 cm (Length) 14 cm (Width) 18 cm (Height) - Weight: 3Kg
Tony's Tips,
This Electric Buon Vino Filtering Device is the business! I used to regard the filtering of Wine and Beer unnecessary and time consuming - thinking, if it looks clear it is! but actually, as the video suggests, learn what "Polishing" really means' the difference in sparkling Clarity between filtering or not, is more evident with White or Rose wine, Light Ales and Lager, you will notice your bottles have little or no sediment at the bottom after filtering, the taste is clean and superior and the look is sparkling clear just like a commercial finish. Of course Red wine or Dark Ale needs to be filtered too but it is less noticeable in the bottle, sediment can run into your glass and spoil the look as well as the taste of your potentially excellent Homebrew. The moderate Cost is easily Justified in my opinion but then I am fussy about what I consume - especially Wine and Beer! Look at the three filter types available for differing input and output quality from this excellent Electric filter.
Now watch the Video . . . . .