VinClasse 500ml Red Grape Juice Concentrate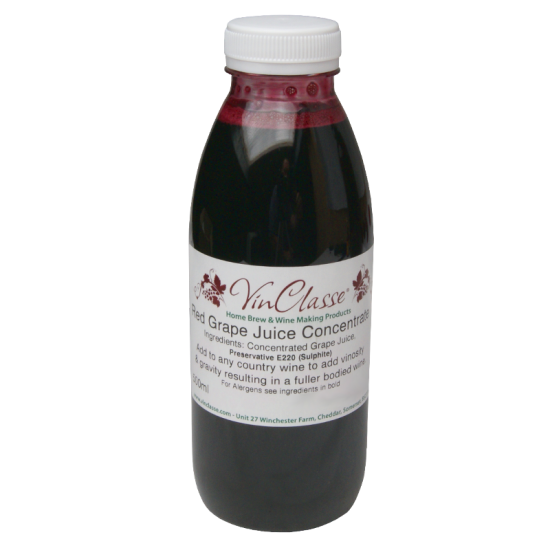 Sold Out
VinClasse 500ml Red Grape Juice Concentrate
Used As An Ingredient In Many Country Wine Recipies.
Adds Body And Flavour To Your Wine.
Can Be Used On Its Own To Make A Simple Wine.
Vinclasse Grape Juice Concentrate Is 64.5

°Bx (64.5 Brix)
Tony's Tips
Also available in 1 Litre and 250ml Bottles.
There are loads of easy and effective recipes for making great wine as well as enhancing Country wines, from this pure VinClasse Grape Juice Concentrate.
"Adds Vinocity and Gravity, resulting in a Fuller Bodied Wine" is the phrase that has been bestowed upon this particular ingredient. The taste, character and strength of high quality wine, one can achieve at surprisingly low cost is worth the  effort of slaving away for five minutes in the winemaking area of the Kitchen. No need to press or trample your own grapes! Just buy this Pure VinClasse Grape Concentrate . . . .  buy our "130 new Winemaking Recipes" Book by C.J.J.Berry and away you go!