Dried Rose Petals - 50g Bag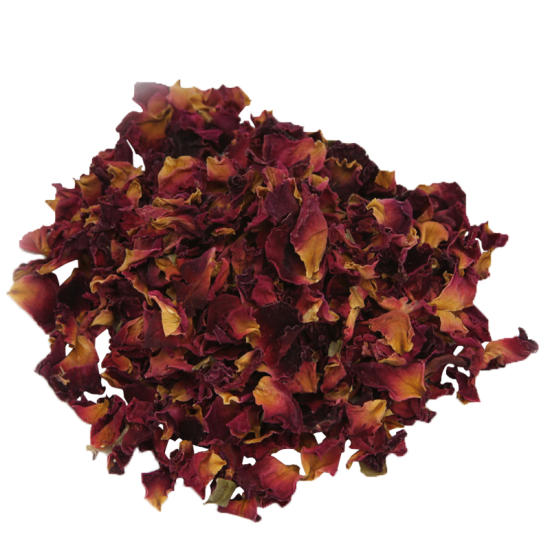 Dried Rose Petals - 50g Bag
For Making Rose Petal Wine Or As Part Of Your Wine Recipe.
Alternatively Add To Your Wine ingredient Kit For Added Flavour And Aroma
Tony's Tips
These Dried Rose Petals have one or two advantages over the freshly picked equivalent, apart from their amazing Fragrance which may not always be reliable with the fresh off the bush alternative, they are available all year round and can be measured more easily for a reliable, predictable flavour.
A number of delightful recipes are available for using naturally fragrant  Rose Petals, but here is one you can try now with Dried Rose Petals.
Recipe to make 6 litres of Sparkling Rose Petal Wine

Ingredients: 

50gm Dried Rose Petals (equivalent to 6 cups of fresh Rose Petals)
6 Litres of filtered water, (available in 2Ltr bottles at about 17p per bottle from Tesco or Morrisons Supermarkets)
1 Kg VinClasse Brewing Sugar
Juice and Zest from 3 x wax free lemons
1 sachet of VinClasse Champagne Yeast
1 rinsed Tea bag for added Tannin /dryness

3 Cardamom Pods for added spice
White Grape juice added proportionately in place of water/sugar

Equipment:

Steriliser/Cleaner
Small Fine Nylon Straining Bag

10Ltr. plasic bucket with lid, Grommet and Bubbler-Airlock
2 PET or Glass demijohns with rubber bungs and airlocks or another 10Ltr plastic bucket for second fermentation
1 metre of PVC Syphon Tube or Auto-Syphon
Swing Top bottles to control excessive pressure build up
1 PET bottle with screw top to test pressure
Large enamelled or stainless steel saucepan
Instructions:
Soak the Dried Rose Petals for about 12 Hours in the saucepan containing 2 litres of filtered water then add the Cardamom Pods, bring to the boil and simmer fo 20 minutes.
Turn off and allow the mix to cool enough to strain into the fermenting Bucket without scalding your hands, squeezing both the juice from the Rose Petals and the juice from the Lemons through the Nylon Straing Bag.
Stir in the sugar until completely dissolved and then add the remainder of the  water bringing the liquid to around 37C.
Sprinkle on the yeast and gently stir, leave for a day or two to initiate fermentation, then rack off to another fermenting bucket or 2 Demijohns and seal with airlocks. Leave for 3-4 weeks in a cool dark place.

Racking off can be carried out several times to further improve the clarity of the finished wine if required. Adding the teabag  and other ingredients to enhance dryness or sweetness such as Chopped Raisins, can be carried out at the first or second fermentation.

Taste the wine once per week, and when you feel  it's about ready to enjoy, syphon the wine into sterilised Swing top bottles, keeping a PET plastic tester bottle aside to check on the pressure build up. Slowly and carefully release any excess pressure from the swing tops, if required.
Store the bottles in a cool, dark place, even in the fridge before consuming on a hot summer's day! The wine will keep for a year or two but beyond that it may not improve with age.