Dried Elderflowers - 1kg Bulk Bag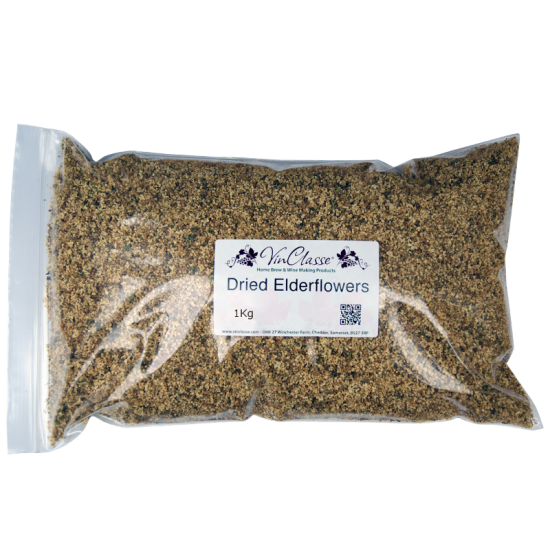 Dried Elderflowers - 1kg Bulk Bag
Ideal For Making Elderflower Champagne And Cordial
Can Be Used In Your Home Made Wine Recipes
Alternatively Add To Your Wine ingredient Kit For Added Flavour And Aroma
Elderflower Champagne

50g Dried Elderflowers
1kg white sugar (for 11% abv, or 700g for 7.5% abv)
Lemon Juice and Zest from 3 wax free lemons
1 sachet of Champagne Yeast
1 Tsp. of yeast nutrient
1 gallon (4.55L) of Tap Water, or better still, Mineral Water
Boil 2.55L water in a stainless steel or enamelled saucepan and pour over the Elderflowers in a sterilised 10L plastic bucket.

Dissolve 1 kg of sugar in the remaining 2L boiled water in the saucepan and add to the mix along with the lemon juice and zest.

Leave to cool between 18-24C,  add the Yeast and Yeast Nutrient and gently stir.

Take a Hydrometer reading and note it down, to calculate the  alcohol content later.

Cover with a lid and airlock and let it ferment for 5 days or so at around 20 - 22C.

Strain the contents with a fine straining bag into another bucket or demijohn and leave for 4-5 days. Check the gravity again which should be around 1004-6 for bottling into swing top bottles or slightly higher if using pet plastic bottles, no need to prime the bottles with sugar but keep an eye on the amount of fizz created over the next two weeks, letting off surplus pressure by gently raising the caps  to reduce the risk of exploding bottles!

Store in a cool place. After a few weeks the Contents will clear, open with caution and  pour in one go into wine glasses or a larger jug so as not to disturb the sediment.

Or . . . . . an alcohol free delight, try this

 Elderflower  Cordial

350g  white sugar
330 ml boiling water
2 Zested and sliced, wax free lemons
10g citric acid
50g dried elderflower heads

Dissolve the sugar in the boiling water and let cool to 18C - 22C.

Add the citric acid, the lemon zest, lemon slices and elderflowers.

Stir the mixture and then cover using cling film. Steep the mixture in the fridge  for 48 hours, then strain with a small, fine Nylon Straining bag or Muslin Bag and bottle.

Place the Elderflower Cordial in the fridge and use within 2 weeks.

Dilute to taste and serve with ice and lemon.