2 x Bubbler Airlocks For Demijohn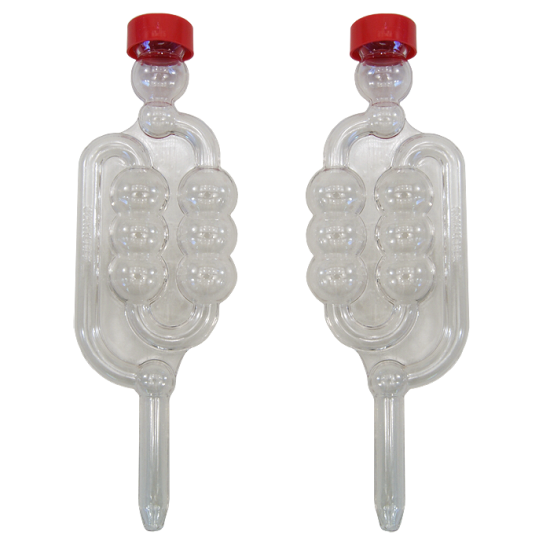 2 x Bubbler Airlocks For Demijohn
Plastic Bubbler Airlock x2.
PLEASE NOTE Due To Very High Seasonal Demand For This Product - Bubblers May Occasionally Vary Slightly From Those Shown In Picture.
Used To Allow Gasses To Escape From Your Fermenting Brew Whilst Preventing Airborne Contamination.
Tony's Tips
"Plastic" Bubbler Airlocks (sometimes called Traps) were originally made of Glass. The Plastic ones are as good and for obvious reasons tend to last longer! There are various designs but they all do much the same thing, that is to seal the must from external bacterial contamination whilst allowing the gasses from fermentation to escape. Simply wet the Bored Bung or Grommet if being used in a fermenting bin with cooled, boiled water  and insert the Airlock stem, half fill the Chambers with cooled boiled water (some use a Sodium Metabisulphite mix for additional security but if any leaks back into the must it may cause permanent damage to the fermenting process). You can easily view and monitor the fermenting process which will be nearing completion when the bubbles slow or stop. Check the Hydrometer reading before moving to the next step; Secondary Fermentation, Bottling, or for the Anxious Sampler . . . . .Drinking!