VinClasse Pink Chardonnay 23 Litre - 7 Day Wine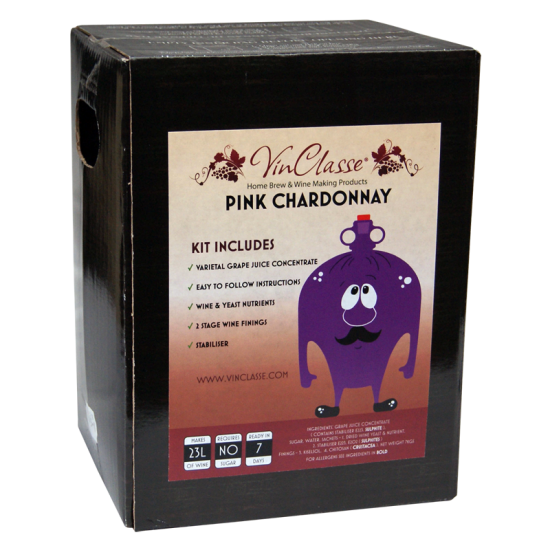 VinClasse Pink Chardonnay 23 Litre - 7 Day Wine
Makes 23 Litres / 5 gallons (Approx 30 Bottles) Of Quality Pink Chardonnay Wine - Ready To Drink In Around 7 Days & Will Improve Further Over Following Weeks.
VinClasse 7kg Wine Kits Contain Approx 7 Litres Of 100%, High Quality Varietal Grape Juice Concentrate, To Achieve A Well Balanced Wine, Near The Commercial Equivalent. No Additional Sugar Is Required.
Kit Includes Grape Juice, Wine Yeast / Nutrients, Stabiliser, Finings & Full Easy To Follow Instructions.
Requires Basic Wine Making Equipment & Bottles (Not Included).
Tony's Tips
30 bottles of premium quality wine in 7 days! . . . . VinClasse "Black Box" wines  are exceptional for taste, reliability and accuracy for  likeness to their commercial equivalent, Chardonnay is a Classic French White with a World wide growing and drinking appeal, the Pink (Rose) variety is produced with a combination of  grape pressing prior to fermentation adding the correct amount of colour, body and Tannins to give this essentially white wine a shade of character, not a blend of Red and White wines like our home made 1000 Island Salad Dressing -Tomato Sauce and Mayonaise!) . . .  No, this is Classy Pink Wine expertly crafted prior to fermentation and  emulated by the VinClasse Black Box Kit!