VinClasse Peach Chablis 23 Litre - 7 Day Wine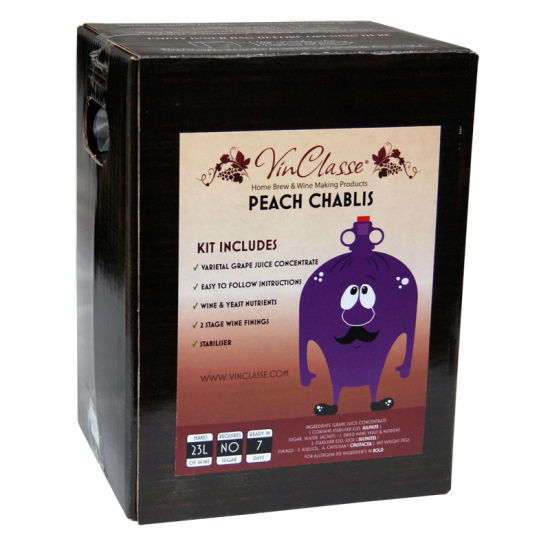 VinClasse Peach Chablis 23 Litre - 7 Day Wine
Makes 23 Litres / 5 gallons (Approx 30 Bottles) Of Quality Peach Chablis Wine - Ready To Drink In Around 7 Days & Will Improve Further Over Following Weeks.
VinClasse 7kg Wine Kits Contain Approx 7 Litres Of 100%, High Quality Varietal Grape Juice Concentrate, To Achieve A Well Balanced Wine, Near The Commercial Equivalent. No Additional Sugar Is Required.
Kit Includes Grape Juice, Wine Yeast / Nutrients, Stabiliser, Finings & Full Easy To Follow Instructions.
Requires Basic Wine Making Equipment & Bottles (Not Included).
Tony's Tips
30 bottles of premium quality wine in 7 days! . . . . VinClasse "Black Box" wines  are exceptional for taste, reliability and accuracy for  likeness to their commercial equivalent. "Peach Chablis" is derived from an Italian style of White Chablis Grape from the sun Drenched Italian Island of Sicily and definitely lives up to it's highly acclaimed sumptuous and Zesty reputation  especially when  left to mature in the bottle for a few Weeks or Months or even Years . . . . Patience is a virtue!