VinClasse Home Wine Making Starter Set - For 5 Litres / 1 Gallon Of Wine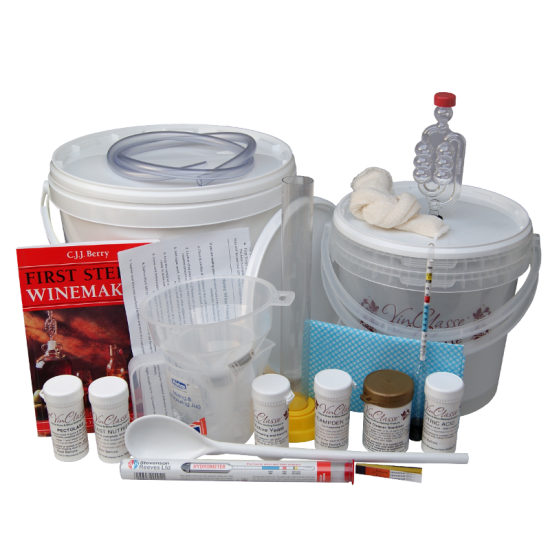 VinClasse Home Wine Making Starter Set - For 5 Litres / 1 Gallon Of Wine
Have You Ever Wanted To Make Your Own Wines From Scratch? This VinClasse Starter Kit Has All The Basic Equipment, Instructions, Recipes And More, All You Will Need Is The Fruit Or Flowers Of Your Choice.
This Set Has 1 x 12.5 Litre (Primary Fermenter). 2 x 5 Litre VinClasse Clear Fermenting Buckets With Lids, One Lid Comes With A Pre Fitted Gromet & Bubbler Airlock - Both Buckets Have Handy LCD Thermometer Strips & Have 1 Litre Moulded Graduation Marks
Other Equipment Includes - A Syphon Tube - A Hydromenter With Trial Jar - Large Plastic Spoon - Muslin Straining Bag - A Measuring Jug & 2 Funnels - PH Acid Test Strips - 100g VinClasse Cleaner Steriliser & Cloth.
 There Is Also A Set Of The Main Additives Required For Most Recipes - Campden Tablets - Yeast Nutrient - Pectolase - Citric Acid & Dried Active Yeast.
Then To Help With Instructions, The Book That Many Refer To As The Home Wine Makers Bible "First Steps In Winemaking" By C.J.J.Berry This Book Is A Great Introduction To Making Wine At Home & Has 130 Easy To Follow Recipes.
Tony's Tips
Thats it! . . . my wife wanted something different, and a new easy to read book in her Christmas Stocking this year! (Yes we still do all that daft Crimble stuff, even after 35 years of Married Blissters!)  . . . .  My  Beloved  can now learn the magical art of making home made wine from scratch, and then a little later whilst sampling the delights of her alcoholic creation we can muse over the past year's greatest moments, reminiscing, gazing dreamily into each other's eyes over the rims of our full to the brim, Crystal Glass, Grande Wine Goblets, our relaxed, bemused facial expressions, coloured by the flickering orange flames from the huge crackling log fire, casting jumping shadows on the cosy room surfaces around us, all warmed and infused by the glowing woodsmoked embers, enhanced by the deep shag pile rug caressing our skin beneath our bath robes, savouring the ambience and glory of this wonderful moment! . . . . or maybe, I'll make the wine, (I can do it quicker) give her the usual Christmas Smellies, Chocs and Maeve Binchy Novel and get her to pour the wine into beer mugs while me an' mi mates gather round the card table for a cheap Xmas P... up! . . . . Y'see with a full kit like this the possibilities  are endless!  . . . . Bottoms Up . . . . Snap . . . .or Yahtzee!