VinClasse Brewing & Wine Making Sugar 1Kg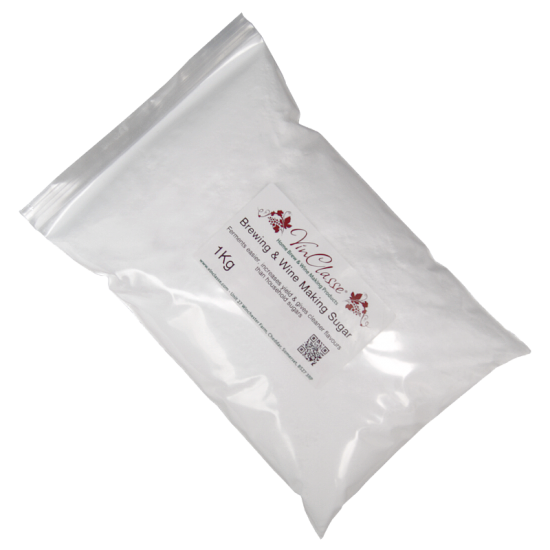 VinClasse Brewing & Wine Making Sugar 1Kg
Suitable For Most 40 Pint Homebrew Beer Kits.
Ferments Easier, Increases Yield & Gives Cleaner Flavour than regular Sugar.
Tony's Tips
The trouble with the internet is that there are too many Very Convincing views and arguments for "this, that and the other". . . . so what is Brewing Sugar? Is it better than Granulated or other Sugar alternatives for Homebrewing?  Do you need more of it? . . . . Is it more expensive? Is it faster? . . . . Well, Yes  and No! The fact is, that; Yes, Brewing Sugar which is Glucose (often called Dextrose) is generally better all round than Granulated Sugar, Fructose, Sucrose, Molasses, Raw Cane sugar, Honey, Treacle, Saccharin, Sucralose and Aspartame which are all sweeteners, most of which are capable of fermenting yeast in different ways . . . . then there's Wine Sweetener, Malt extraxt, Beer Enhancer, Sraymalt  of varying types, and even Citric Acid . . . . see my forthcoming  article on Fermentation Techniques to look into this much maligned subject!) . . . . but briefly, over the years, the use of Brewing Sugar for Beer, Wine, and Spirits, has ensured a reliable and thorough fermentation  for convertion to alcohol with various types of yeast, leaving no added tastes to taint the Brew or Must, in addition to the essential avoidance of the Yeasty "I made it  myself" off taste, sometimes a feature of Homebrew! and it is faster, so YES again, l always use Brewing Sugar and NO you don't need more of it, unless you want to increase the brain deadening potential of your creation!, and NO again, it is not more expensive . . . . well just a bit more than cheapest Granulated Sugar from Aldi or Lidl but not as pricey as most alternatives, however, there is nothing to stop you using a mix of some or all of these alternatives, Tip: keep notes of the quantities added and the final outcome!