Fermentis Brewing Yeast - Saflager S-23 - 11.5 Gram Sachet Of Dry Lager Yeast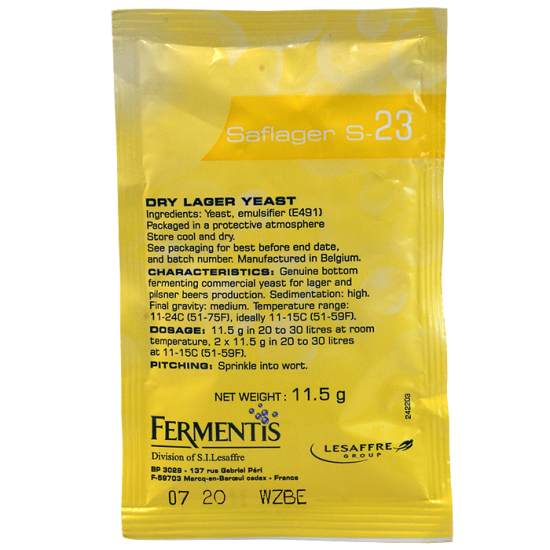 Fermentis Brewing Yeast - Saflager S-23 - 11.5 Gram Sachet Of Dry Lager Yeast
High Quality Brewing Yeast For All Lagers & Pilsners.
11.5 Gram Sachet In 20/30 Litres.
A Reliable Yeast At High Fermenting Temperatures (15°C - 21°C) But Really Comes Into Its Own At Lower Fermenting Temperatures (9°C - 15°C).
Tony's Tips
Saflager yeast is the choice of the Lager and Pilsner Brewer owing to it's natural ability to ferment effectively at lower than average temperatures typical of this Brewing style. Tip: Use 2 x 11.5 g packets if pitching below 11 c  to maintain fast and thorough fermentation. This low cost commodity can seriously improve your lager by allowing a slower fermentation at lower temperature, thus bringing out more flavour in your Brew, keep several packets on your brewing shelf and test the difference, let me know how you do.