20 Litre - 36 Pint Wine Dispenser / Bag In A Box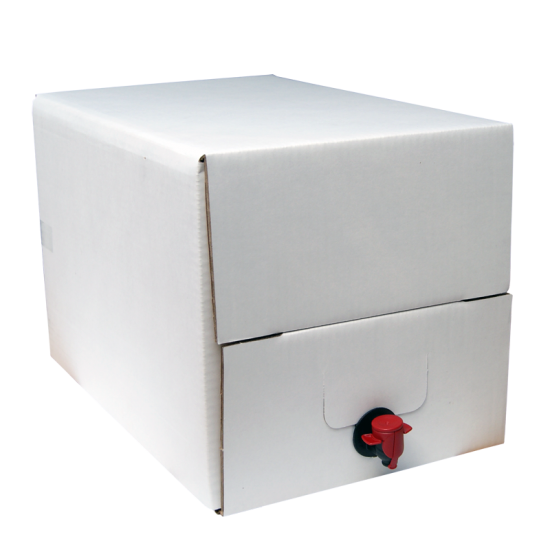 20 Litre - 36 Pint Wine Dispenser / Bag In A Box
Includes Box And Collapsible Inner Bag, Holds 20 Litres Of Wine ( Equivilant To 26 Bottles Or 36 Pints)
Suitable For Wine, Cider And Ale - (Ales Must Be Kept Cool To Avoid Fermentation Pressure Within The Bag)
Use Instead Of Bottles. Or Other Rigid Containers
The 20 Litre Box Has A Standard Folding  Base Which Requires The Use Of Suitable Adhesive Tape, However The Front Panel Slots Into Place Without The Use Of Tape.
Assembled Dimensions: W=26.5cm x H=26.5cm x D=43cm (including Tap).
Fill Through 30mm Hole, Remove Any Excess Air, Insert Dispensing Tap, The Bag Then Folds In On Itself With No Air Intake, So No Risk Of Oxidisation! Meaning Your Wine Stays Fresh To The Last Glass.
Food Safe - This Product Is Also Suitable For Storing and Dispensing All Non Carbonated Drinks Inc Water, Juices And Squash Etc

Tony's Tips
to re-use your bags avoid pushing the tap all the way in; 3 clicks-and you will need to be far stronger than me to get it out! 2 clicks will make a perfectly good seal.
The "BiB" (Bag In a Box) was invented in 1955 by William R. Scholle who was consequently inducted into the Packaging Hall of Fame in 1991 for his marvelous invention.  Like me, he was surely puzzled as to why Glass Bottles are still generally used for wine storage instead of his new low cost and environmentally saving invention . . . . . Quality, Looks and Long term Storage I Guess . . . . . . . BUT LOOK
There is now Laboul!
Long Lasting, Attractive, Alternatives to Cardboard Boxes and Glass Bottles, from Belgium:

An extensive Range of Permanent and Classy Wine Dispensers, Laboul are Robust Plastic "Bag-in-Balls" so the familiar "BiB" Acronym  still  (thankfully) applies to the new slightly Ominous Sounding  Description!
Laboul is available in a wide variety of Designs and Colours in 3L or 5L Sizes to Impress your Guests . . . . . Remember,  Presentation is everything! . . . . . . . (Despite the Contents!)