Winebuddy Starter Kit - For 6 Bottles Of Chardonnay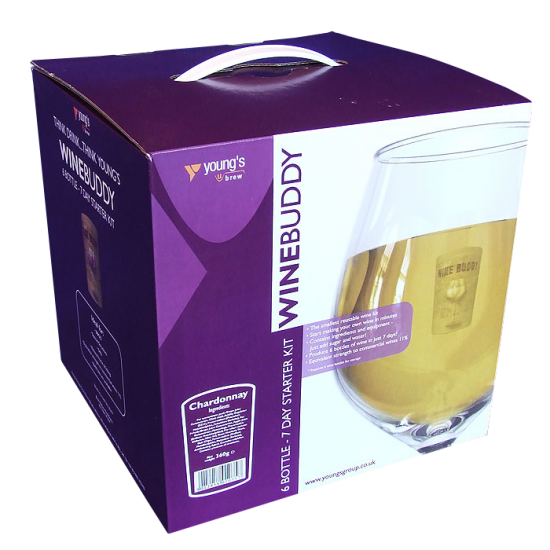 Winebuddy Starter Kit - For 6 Bottles Of Chardonnay
Contains Equipment & Ingredients To Make 6 Bottles Chardonnay (Just Add Sugar & Water).
Equivalent Strengths To Commercial Wines Approx 11% & Ready In Just 7 Days.
No Experience Required, Full Instructions Included - Equipment Is Re Useable & There Are Several Other Wine Refills Available (See Our Other Listings).
Kit Contains - 2 x 5L Fermentation Buckets, 1 Fermentation Bucket Lid, Spoon, Hydrometer, Syphon Tube & Clip, 1 Concentrate Bottle, Yeast & Nutrient, French Oak Chips, Stabiliser, F-Pack, Finings, 6 x Wine Labels & Plastic Bottle Stoppers.
Tony's Tips
Easy to make, easy to drink, low cost, great for parties and gatherings. Most agree the wine is excellent and represents equally excellent value for money and as it's all in one box the Winebuddy kit  makes a super gift that can be re-used again and again. Tip: Offer to help your Winebuddy Gift recipient with the making of the wine and you should recoup a lot of your financial outlay with the offer of drinkable  goods in kind as a thank you!