6 Bottle Wine Making Equipment Kit With Chardonnay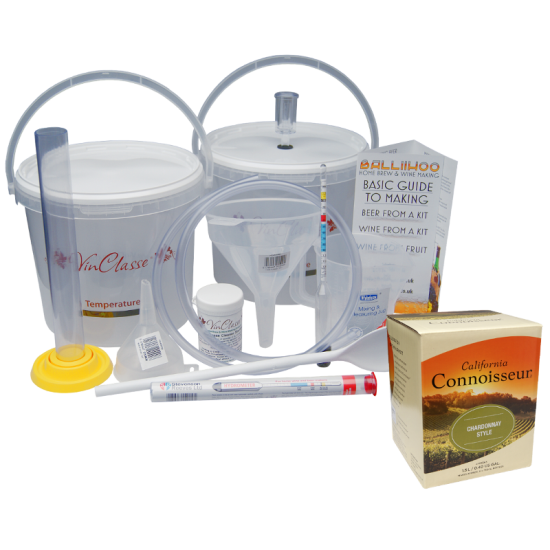 Sold Out
6 Bottle Wine Making Equipment Kit With Chardonnay
All The Basic Equipment Needed To Start Making 6 Bottle Wine Kits. Includes A California Connoisseur Chardonnay Style Ingredient Kit With Full Instructions.
The Kit Includes 2 x 5 Litre Opaque Fermenting Buckets With Graduation Marks & Temperature Strips - 2 Lids, One Of Which Has A Grommet & Airlock - 1.25m Syphon Tube.
Long Handled Plastic Spoon - Plastic Measuring Jug & 2 Funnels - 100g Tub Of VinClasse® Cleaner Steriliser - Hydrometer & Trial Jar.
California Connoisseur Is Made From The Finest Grape Concentrates California Has To Offer. In As Little As 28 Days You Can Create Wines Of Impressive Bouquet, Flavour & Structure. Chardonnay Semillion Is A Unique Blend Of Two Sensational White Wine Grapes. Straw To Pale Gold In Colour With A Smooth & Dry Lingering Finish.
Once Your Wine Has Finished Fermenting You Will Require Bottles, Corks & Corker (Not Included) But Also Available From "Balliihoo Homebrew" Alternatvely Keep Back & Re Use Your Old Screw Cap Wine Bottles.
Tony's Tips
Great as a gift and even greater as a bit of Selfish Personal Indulgence, this is definitely the way to produce low cost but staggeringly High Quality Wine of the Chardonnay Semillon variety, offering great taste, great value and lots of it! No matter what the occasion, mastery of the techniques of fine Wine making can be gained with ease by anyone who has a thirst for quality wine at low cost (just about Anybody and Everybody then!) Tip: Get the Book "First Steps in Winemaking" by C.J.J.Berry, available on this Balliihoo website, there is nothing to stop experimentation with mixing or adding extra ingredients to further enhance  the wine character. Let me know your findings!