Basic 30 Bottle Wine Starter Set With Chardonnay Ingredient Kit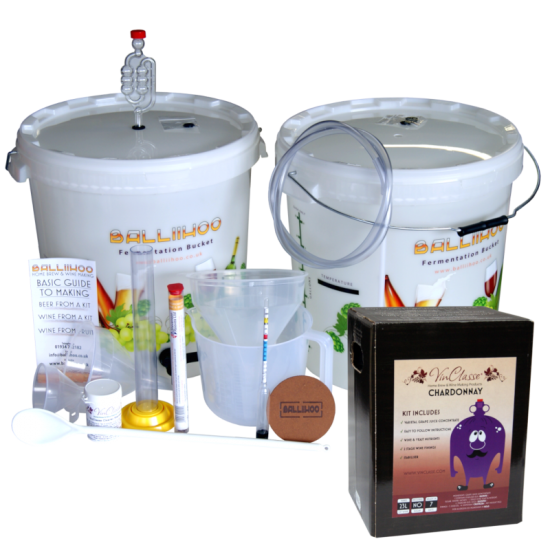 Basic 30 Bottle Wine Starter Set With Chardonnay Ingredient Kit
This Set Is All The Basic Equipment Needed To Start Home Brewing 30 Bottles Of Wine.
It Also Includes a VinClasse 7kg Chardonnay Wine Ingredient Kit Which Contains Approx 7 Litres Of 100%, High Quality Varietal Grape Juice Concentrate, To Achieve a Well Balanced Wine, Near The Commercial Equivalent. No Additional Sugar Is Required.
Your VinClasse Ingredient Kit Makes 23 Litres / 5 gallons (Approx 30 Bottles) Of Quality Chardonnay Wine - Ready To Drink In Around 7 Days and Will Improve Further Over Following Weeks, Includes Grape Juice, Wine Yeast / Nutrients, Stabiliser, Finings and Full Easy To Follow Instructions.
The Equipment Set Is Suitable For Use With All 30 Bottle Wine Ingredient Kits and Larger Batches Of Home Made Country Wines and Ciders.
2 x 25 Litre Fermentation Buckets With Grommets, a Bubbler Airlock, LCD Thermometer Strips, One Of The Buckets Includes a Tap (For Easier Transfer & Bottling).
1.25m Syphom Tube With Racking Cane - 100gram Tub Of Steriliser - Hydrometer and Trial Jar - Long Handled Plastic Spoon - Plastic Measuring Jug - 3 x Plastic Funnels - a Balliihoo Leather Coaster.
Once Your Wine Has Finished Fermenting You Will Require Bottles, Corks and Corker Or Bag In a Box/Polypin Wine Dispenser (Not Included). Alternatively You Can Save Your Own Bottles For Re-Use, Dont Forget To Keep The Caps!
Tony's Tips
Everything the aspiring Home Winemaker needs to get started in one neat package . . . . an ideal Christmas or Birthday Present (. . . . for yourself!) If you haven't tried this delight before you really won't believe how good the wine is for the cost of production (or at any cost!) As with most home brewing techniques the real benefits are that it's easy to make exceptional quality products with minimal expertise and just a little care and of course the final  alcoholic strength can be adjusted to suit the palate! A subtle enhancement available on this Website but not included in this kit is the addition of Oak Chips to complete the characteristic "Pencil Box" finish synonymous with high quality Chardonnay Wines.