Still Spirits - Top Shelf - Spirit Essence - Dry Gin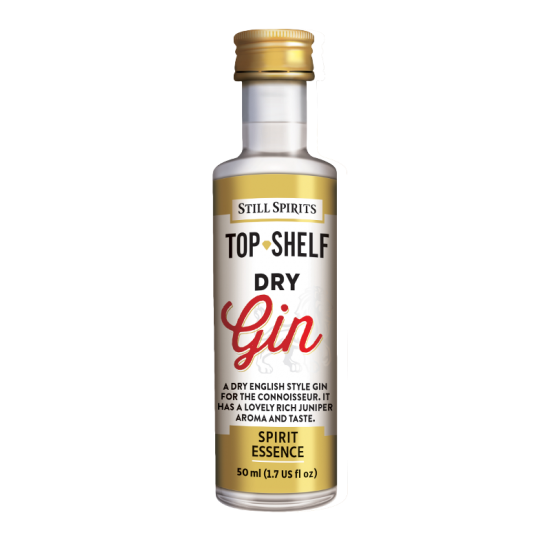 Still Spirits - Top Shelf - Spirit Essence - Dry Gin
A Dry English Style Gin For The Connoisseur. It Has A Lovely Rich Juniper Aroma And Taste

Each 50ml Bottle of Essence Will Flavour 2250ml approx 3 x 750ml Bottles Of 40% Distilled Vodka Or Spirit.
Can Be Added To Commercial Vodka Or Your Own Home Made Spirits (See Our Available Vodka/Spirit Making Kits).
To Use, Shake Well & Pour Into A Part Emptied Bottle Of Vodka / Spirit & Shake To Blend. Can Be Consumed Immediately After Mixing, However, We Recommend Ageing For Best Results.
Tony's Tips
Now Here is the next step in Achieving Excellent Homebrew Liqueurs. The easy production method involves no more than the above mentioned steps. All you need are some decent looking Bottles and a Welcoming Home Bar in the living Room and you are in Business! Don't forget to print your Self-adhesive Bottle Labels to add extra credibility to your Spirits and Liqueur Presentation,  Label Images are downloadable at no charge from www.freelabelmaker.com.