Original Prestige 20ml Ouzo Essence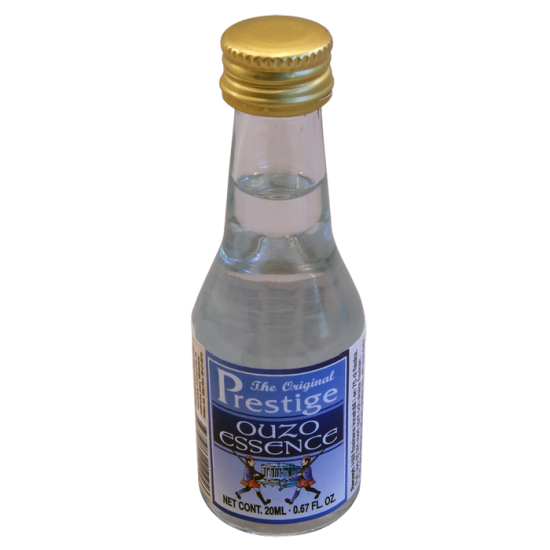 Original Prestige 20ml Ouzo Essence
Each 20ml Bottle of Essence Will Flavour A Full 750ml Bottle Of Vodka/Base Spirit.



 
Can Be Added To Commercial Vodka Or Your Own Home Made Spirits (See Our Available Vodka/Spirit Making Kits).



To Use, Simply Pour Into A Part Emptied Bottle Of Vodka/Base Spirit & Shake Well To Blend.



Original Prestige Offers A Large Range Of Classic & Modern Essences.
Tony's Tips
Ouzo:  From the Ouzeries in Greece, where it is served with "Mezethes" (delightful appetisers rather like "Tapas" in Spain) to remote corners of the Globe, there is a saying that Ouzo is the Spirit or "Kefi" that exists in Hearty Greek Food, Soulful Music and Lively Conversation. Serve chilled, but authentically - no ice. Lets see if Kefi exists in this Prestige offering!
Prestige Essences are perfect for flavouring Vodka or your own favourite spirit/liqueur as well as adding to other foods such as Milk Shakes, Ice Cream, Biscuits, Cake, Icing and Filler Cream or even Meringues, Yoghurt, Brandy Sauce etc.