Original Prestige 20ml Orange Absinthe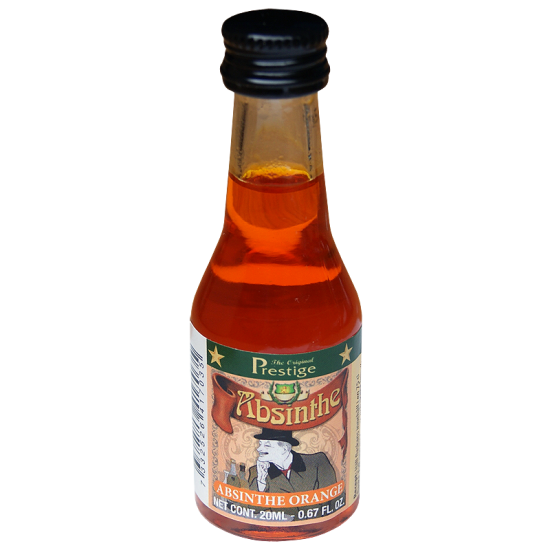 Original Prestige 20ml Orange Absinthe
Each 20ml Bottle of Essence Will Flavour A Full 750ml Bottle Of Vodka/Base Spirit.





 
Can Be Added To Commercial Vodka Or Your Own Home Made Spirits (See Our Available Vodka/Spirit Making Kits).




 

To Use, Simply Pour Into A Part Emptied Bottle Of Vodka/Base Spirit & Shake Well To Blend.




 

Original Prestige Offers A Large Range Of Classic & Modern Essences.
Tony's Tips
Orange Absinthe: The Eponymous Orange is self explanatory, Absinthe, however is more complex! It is the Anise flavoured Spirit of Swiss origin, known commonly in history as the "Green Fairy" was actually banned in Europe and the USA for a few years in the early part of the  last Century! Its apparent Hallucinogenic Effect, enjoyed at the time largely by the oft considered "Immoral" Parisian Artists and Writers was, some say, due to the Natural Wormwood Plant ingredient of the original Absinthe - Thujone . . . . this  spurious fact has since been deemed incorrect and the Liquor consequently un-banned, so now we can all enjoy this delightfully creative spirit at low cost without fear of going mad as a result.
Prestige Essences are perfect for flavouring Vodka or your own favourite spirit/liqueur as well as adding to other foods such as Milk Shakes, Ice Cream, Biscuits, Cake, Icing and Filler Cream or even Meringues, Yoghurt, Brandy Sauce etc.