Original Prestige 20ml After Hours - Mint Chocolate Liqueur Essence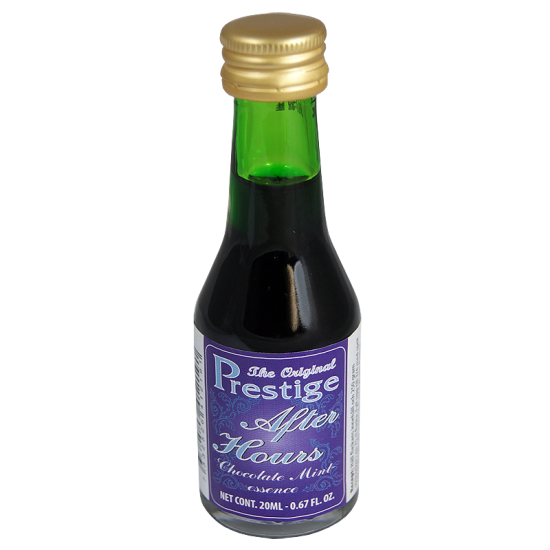 Original Prestige 20ml After Hours - Mint Chocolate Liqueur Essence
Each 20ml Bottle of Essence Will Flavour A Full 750ml Bottle Of Vodka/Base Spirit.



 
Can Be Added To Commercial Vodka Or Your Own Home Made Spirits (See Our Available Vodka/Spirit Making Kits).



To Use, Simply Pour Into A Part Emptied Bottle Of Vodka/Base Spirit & Shake Well To Blend.



Original Prestige Offers A Large Range Of Classic & Modern Essences.
Tony's Tips
After Hours: A shot of Nestles' World Famous flavour of those Gorgeous  Square Silky Dark Chocolate Thins, encasing Soft, Sweet, Smooth and Zingy Mint Cream from Halifax, Yorks. that are regularly used as late night, Mini-Frisbies for competitive target practise on unsuspecting open mouthed Snorers who have fallen asleep in front of the TV . . . . after 8pm!)
Prestige Essences are perfect for flavouring Vodka or your own favourite spirit/liqueur as well as adding to other foods such as Milk Shakes, Ice Cream, Biscuits, Cake, Icing and Filler Cream or even Meringues, Yoghurt, Brandy Sauce etc.