Premium 30 Bottle Wine Making Set With Chardonnay Semillon Ingredient Kit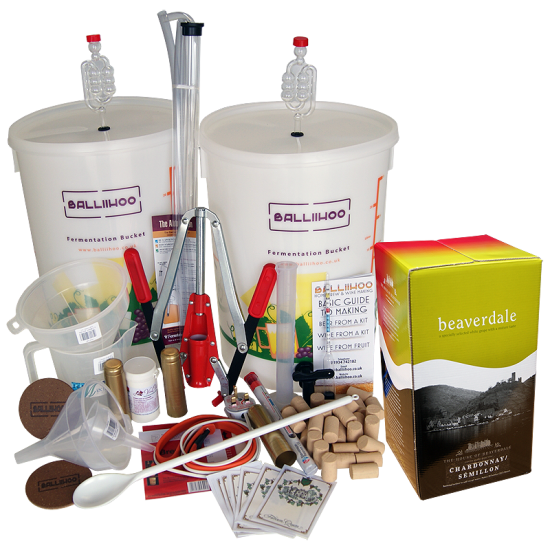 Premium 30 Bottle Wine Making Set With Chardonnay Semillon Ingredient Kit
Our Premium Equipment Set Includes Everything Required To Start Home Brewing 30 Bottles Of Wine. Included With This Set Is a Beaverdale Chardonnay Semillon 30 Bottle Ingredient Kit With Full Instructions.
Chardonnay Semillon Is a Unique Blend Of Two Sensational White Wine Grapes. Straw To Pale Gold In Colour With a Smooth And Dry Lingering Finish.
Includes 2 x 25 Litre Fermentation Buckets With Grommets, Airlocks & LCD Thermometer Strips (One Of The Buckets Includes A Tap For Easy Bottling) - 100gram Tub Of Steriliser - Hydrometer and Trial Jar - Long Handled Plastic Spoon - Large Plastic Measuring Jug - Set Of 3 Plastic Funnels - Wrap Around Heating Belt - 23 Litre Auto Syphon - 2 x Balliihoo Leather Coasters.
Also Included Is a Twin Lever Corker, 30 Straight Wine Corks, 30 Bottle Labels and 30 Gold Shrink Capsuals To Give Your Wine That Professional Finishing Touch - All You Will Require Is Bottles (Not Included)
Tony's Tips
The longer than average ready to drink time of 28 days is worth the wait, this Beaverdale wine is comparable to its premium quality commercial counterparts and will grossly further improve beyond your expectations when left to mature in the bottle for a few months! The wine making equipment supplied with the initial kit is ready for another and anonther amd amnothr angd amother angddanmover production cycle so get wine making! build up a supply then keep it topped up so all your wines are at their best . . . Here's to a Bright and Fulfilling Future