Oktoberfest Special Beer - 3kg 34 Pint Ingredient Kit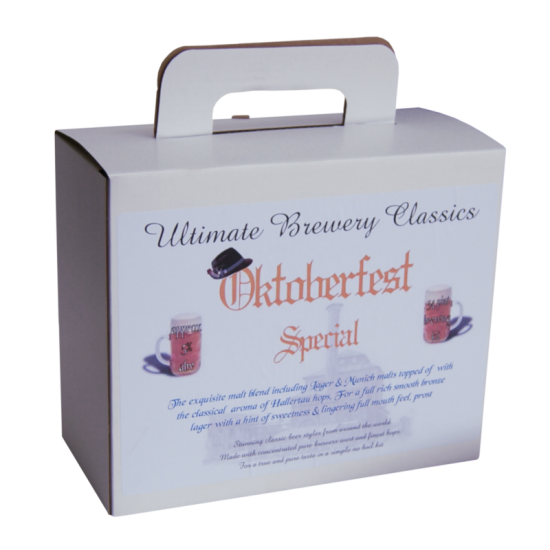 Oktoberfest Special Beer - 3kg 34 Pint Ingredient Kit
Ultimate Brewery Classics - 3kg Kit, Makes 34 Pints Of Oktoberfest Special Beer.
Contains 3kg Of Premium Concentrated Brewers Wort, Additional Hop Character Essence, And Premium Dried Brewing Yeast Sachet
Superb Rich And Full Bodied Oktoberfest Beer With Rounded, Smooth And Rich Full Malt Flavour. Brewed To 34 Pints For A Fuller Body And Increased Alcohol To Celebrate In Style. The Exquisite Malt Blend Including Lager & Munich Malts Perfectly Sum Up This Celebrated Beer Style That Is Topped Of With The Classical Aroma Of Hallertau Hops. Full Rich Smooth Bronze Lager With A Hint Of Sweetness & Lingering Full Mouth Feel.
All Ingredients And Full Instructions Included