Grainfather High Performance Cleaner - 500g Tub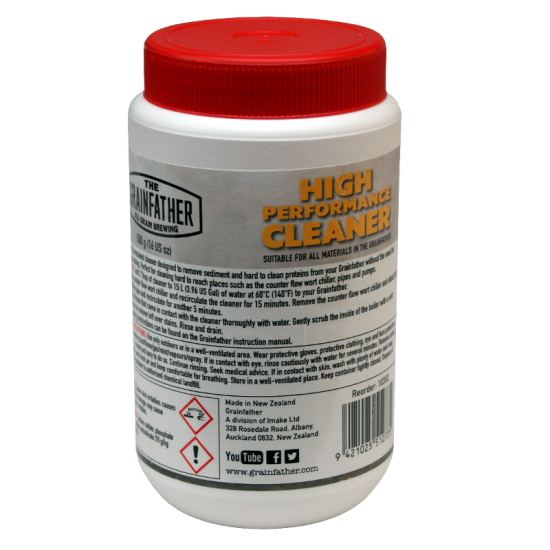 Grainfather High Performance Cleaner - 500g Tub
Stainless Steel Cleaner For Cleaning The Grainfather Brewing System.
A Specially Formulated Cleaner Designed To Remove Sediment & Hard To Clean Proteins From Your Grainfather Without The Need For Tedious Scrubbing. Perfect For Cleaning Hard To Reach Places Such As The Counter Flow Wort Chiller, Pipes & Pumps.
2 Tbsp To 15Litres Of Water.
Tony's Tips
There is no reason why you shouldn't use this Grainfather High Performance Cleaner on any equipment, as well as your Grainfather, try it on any difficult to clean items including those dirty looking areas in Cookers, Fridges, Freezers Microwave ovens  around the Hinges, Locks and Handles,  in fact anywhere that is in need of a good scrub but without access to give it a good scrubbing!
It does however, state "Use outside and avoid Inhaling", although a facemask, protective gloves and good ventillation should be enough to safely use this very effective cleaner steriliser, sparingly and occasionally in the Home; without going outside - carrying your Grainfather and other kitchen equipment  in your Gas mask, Spacesuit and Heavy Duty Industrial Gloves!