Heavy Duty Twin Lever Bottle Capper (Red)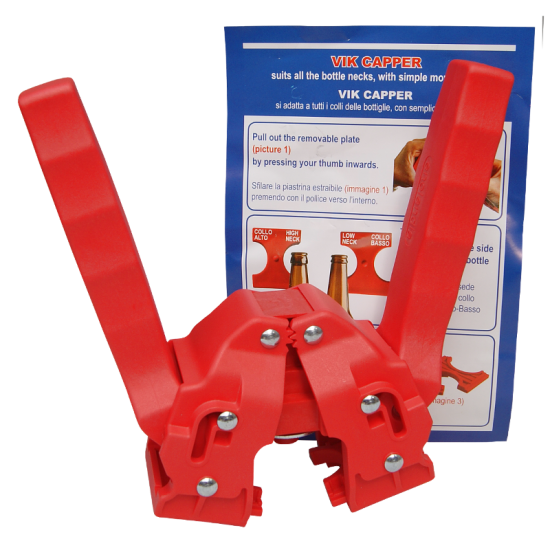 Heavy Duty Twin Lever Bottle Capper (Red)
Heavy Duty Red Twin Lever Bottle Capper For Crimping Crown Caps To Seal Your Bottles.
This Capper Has A Removeable Cup, Magnetic Tip (To Hold Crown Cap In Place) And Also (Low Neck High Neck Plates) Which Can Be Swapped Over If Required. Most UK Beer Bottles Are High Neck, But If You Do Come Across Any Low Neck Bottles, This Handy Feature Means They Can Be Used As Well.
Place Capper Over Neck Of Beer Bottle & With Both Hands Push Down Onto The Handles. When Handles Are Horizontal Your Crown Cap Will Be Secure.
Much Stronger Construction Than The Standard Twin Lever Capper
Tony's Tips
The better quality the tool, the better it does the job! This Heavy Duty Twin Lever Capper will not let you down, nice firm action and has a replaceable crimping cup . . . . No, I don't know how long the crimping cup lasts! But mine is still going strong after much use, it'll probably outlive me before it shows any sign of wear and I intend to live to at least 112!  . . . .Why? . . . .Well, there is so much homebrew to enjoy over the next 50 years or so and with today's unprecedented advances in medicine and homebrew quality, ones lifespan could extend well beyond ones most optimistic expectations! . . . . Good Health!