375ml / Half Size Green Glass Wine Bottles Pack Of 12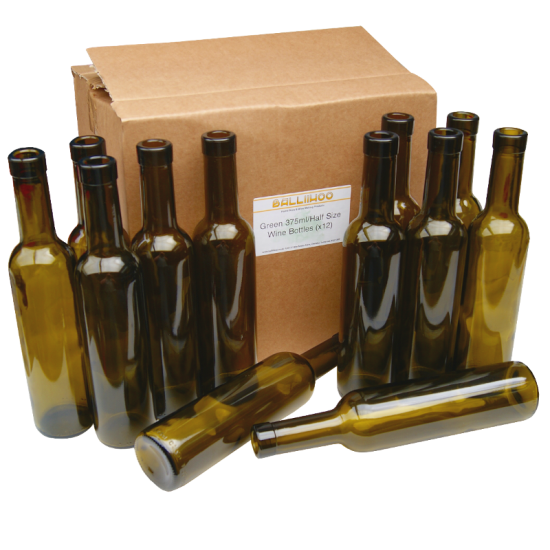 Sold Out
375ml / Half Size Green Glass Wine Bottles Pack Of 12
12 Green Glass 375ml Wine Bottles.

Colour Is Dead Leaf Green
These Have the Same Neck Diameter as Standard Wine Bottles, so are Compatable with all our Various Corks and Stoppers.
Lightly Punted Base, 26cm High x 5.6cm Wide At The Base.
Ideal For Liqueurs And Spirits

Order With Confidence - We Take Extra Time and Effort When Packaging all Our Glass Products.
Tony's Tips
These Classic "Punted" Green Glass Wine Bottles can be used for, not just wine, but for any liquid storage use that comes to mind! The greater the depth of the traditional "Punted" hollowed, raised bottom of the wine bottle,  historically indicated that the wine contained within was of proportionately high quality! With Special Gran Reserva wine of good vintage this presentational feature may still stand . . . . but alas, with my latest experimental, homebrewed "Grog" bottled yeserday this rumour may not necessarily be quite so true!  Green or Clear glass bottles are currently available.