Dried Elderberries - 500g Bag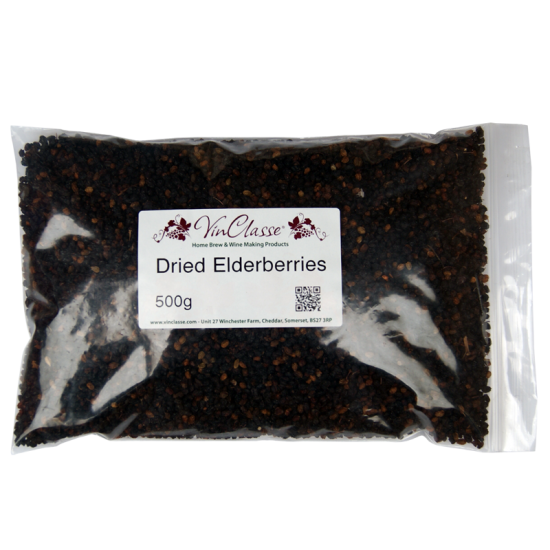 Dried Elderberries - 500g Bag
500g Bag - Sufficient For Approximately 2 Gallons Of  Elderberry Wine
Use As An Addition In Your Fruit Wine Or Beer Recipe
Tony's Tips
Beats trampling through the Undergrowth with yer Spider Defending Earmuffs, Baseball Cap and All-weather Trousers tucked into yer Rubber Wellies looking for Fresh Elderberries . . .  that aren't there! or if they are, they're not ripe yet, over ripe or covered in Black fly, Bird S . . . and Slug Slime. Give me a bag of nice clean, perfectly ripe Elderberries anyday at any Price. These Elderberries are good . . . . and considering the undeniable facts above, quite cheap!
Tony's  Recipe for Elderberry Wine
Dried Elderberries are ideal when wild elderberries do not grow locally and are out of season. They are also easier to store and Handle without compromising the quality of the resulting wine.

Ingredients to make 15.5 Litres Elderberry Wine
500gm dried elderberries
4.4kg VinClasse Brewing Sugar
13.2L water
1.47L (6 x 245g cans) of red grape concentrate
8 tsp. VinClasse citric blend
4 tsp. VinClasse yeast nutrient
3 crushed VinClasse Campden tablets
1 Sachet VinClasse all purpose red wine yeast

Method
Boil 13.2 Litres of Filtered or Bottled Water, stir in 4.4kg Brewing Sugar until dissolved and the water appears clear. Thoroughly rinse the dried elderberries in warm water, insert them into a nylon straining bag, weighted down with (for example) sterilised glass marbles in the Primary Fermenter.
Pour the boiling water and dissolved sugar over the elderberries and cover the primary Fermenter. When cool, stir in three finely crushed campden tablets, yeast nutrient and citric acid until dissolved.Re-cover the primary Fermenter and set aside for 12 hours.
Add activated wine yeast in a starter solution and ferment until the specific gravity drops to 1.010, stirring and squeezing the bag daily. (Remember the rubber gloves, to protect your hands from the pigments.)
Transfer liquid to a secondary Fermenter, attach an airlock and ferment to dryness. Rack every 30 days until wine clears.
Bottle and wait at least 3 months to enjoy. This wine will improve with age.