Clear Glass Beer Bottles x 24 With Crown Caps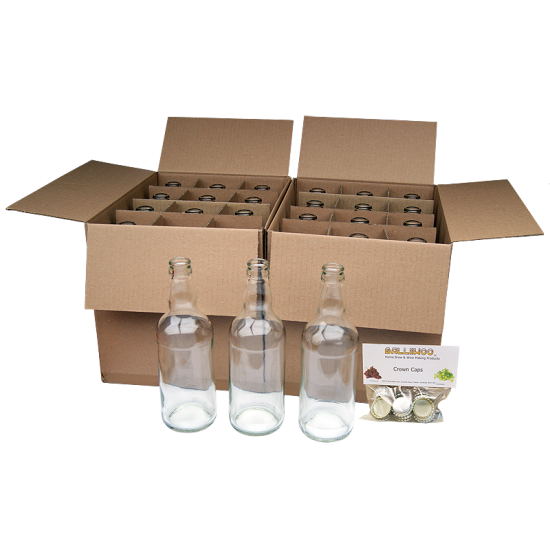 Clear Glass Beer Bottles x 24 With Crown Caps
24 x 500ml Clear Glass Beer Bottles.
Suitable For Bottling Your Home Brew & Compatible With Crown Caps (24 x Crown Caps Provided).
Requires Capping Tool For Sealing, See Our Other Items.
These Are Shipped In Boxes of 12 With Inserts Between Every Bottle, These Are Then Packed In A Strong Outer Box For Added Protection.
Tony's Tips
Clear or Brown Glass Beer Bottles! . . . . You just can't beat the real thing! . . . . Yes, they are Breakable, Heavier and a little Costlier than Pet Plastic equivalents. They also require a Crown Capper but these are Traditional Glass Beer Bottles that give the feel of a "well crafted, Quality Ale" even before sampling the contents! . . . .Tip: Pour your Guest's ale from the bottle into their Glass or these lovely Bottles will quickly disappear, craftily smuggled out and carried home in their Cunningly selected Loose Fitting "drinking and falling over" attire. Don't even trust your "best" friends with these cherished empties, especially if they are fellow Home-Brewers!