VinClasse 5 Litre Clear Fermenting Bucket With Airlock & LCD Temp Strip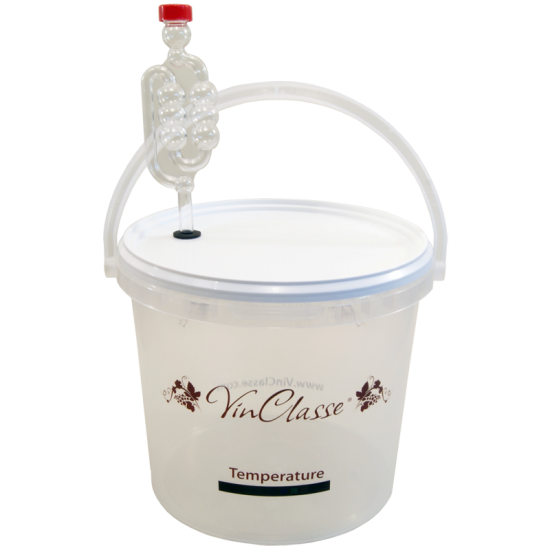 VinClasse 5 Litre Clear Fermenting Bucket With Airlock & LCD Temp Strip
Re-useable - 5 Litre Food Grade Fermenting Bucket With Plastic Handle.
Comes With Pre Fitted Airlock Grommet, Bubbler Airlock & LCD Temperature Strip.
Moulded 1 Litre Graduation Marks.
Diameter 19cm x Depth 19cm.
The Clear Sides Make This Ideal For Fermenting On The Pulp & For Your Main Ferment As An Alternative To Demijohns.
Wide Opening For Easy Cleaning.
Tony's Tips
This is a great alternative to the glass Demijohn and includes all the bits you need as stated above, I think it's time I got up to date, broke my old traditional Demijohn habits and used this VinClasse 5 Litre Clear Fermenting Bucket with Airlock given to me recently by a young Wine making companion, easier to clean and manage and won't get smashed so easily!
An additional rubber blanking off grommet allows vigorous shaking of the bucket to de-gass the wine after fermentation.
There is now a hole punch available for putting an airlock Grommet in the lid and a drill bit for adding a tap.