Black Rock Miners Stout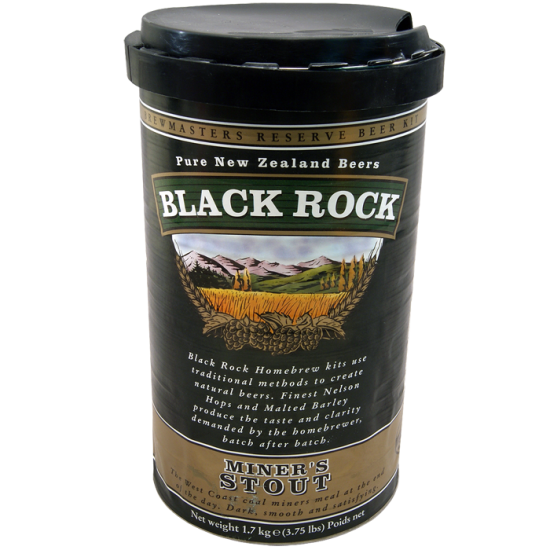 Sold Out
1.7Kg Kit, Makes 40 Pints of Quality Stout , Full instructions included.
The West Coast Coal Miners Meal At The End Of The Day. Dark, Smooth And Satisfying.
Black Rock Homebrew Kits Use Traditional Methods To Create Natural Beers. Finest Nelson Hops & Malted Barley Produce The Taste & Clarity Demanded By The Homebrewer, Batch After Batch.
Requires 1kg Of Brewing Sugar, Beerkit Enhancer or Malt Extract
Ready To Drink In 14 Days But Is Best After 2 Months And Continues To Improve With Age.
Tony's Tips
Black Rock Miners Stout from New Zealand, dark, smooth and satisfying, is wonderful just as it is, but benefits further with the addition of 1.5Kg Dark Malt Extract, or to be traditionalist try adding Crushed Chocolate Malt at the initial stage following the instructions on the product on this website.  New Zealand, although half the world away, produces this smooth and silky "West Coast Coal Miners Meal" just like a traditional satisfying stout should be, conducive to  great winter warmth and ambience, log fires, wood smoke, cosy long dark evenings . .Ahh! . . . . but don't forget, this delight  improves with age, so save some for Summer pints too, it's especially good when chilled! . . . G'day!