Grainfather Advanced Brewery Set Up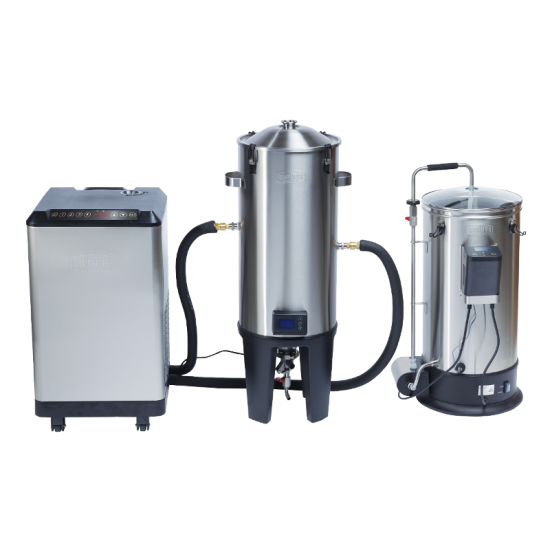 Sold Out -10 %
Grainfather Advanced Brewery Set Up
This is it, the ultimate system to revolutionise all grain brewing in your own home!
 
It includes, the Grainfather Connect, the legendary all-in-one grain brewing system that took the home brewing world by storm. Designed to be advanced enough to please home brewing experts, but simplistic enough to cater for all experience levels. Now with the addition of the Conical Fermenter and Glycol Chiller, we have taken a giant step forward in delivering a complete, professional quality, home brewery. Designed to deliver commercial like fermentation results, there is no limit to the types and styles of beer that can be made.
 
Compact and simple to use, with a small foot print for brewing indoors, the Grainfather Advanced Brewery Set up couples superior design with an impressive list of features and the latest technology, allowing you to brew professional quality craft beer at home!
 
Isn't it time you started brewing?

GRAINFATHER FEATURES: 
The Grainfather, is your all in one brewing system, to make beer from grain. The sleek look, user friendly, intuitive design, and innovative features, make this your perfect brewing companion for both experienced and beginner all grain brewers. It is made from high quality 304 grade stainless steel with a 30 L capacity, designed to make up to 23 L of beer from one brew.
Electric
The Grainfather is electrically powered and designed to be used indoors. No need for burners, or hot plates, just plug in and go! It is fitted with a controlled heating element so that the correct power can be used depending on what stage of the brewing process you are at. A gentler heat is used at certain stages for accurate temperature control and and to minimise the risk of scorching and after the mash it can also ramp up the heat quickly for when more vigorous heating is required. Heating from mash to boil takes as little as 20 minutes.
Control Box for Heat & Power Control:
Use the Connect Control Box in conjunction with the Connect App and Grainfather Brewing Community for the ultimate brewing experience. Create your recipes on the Grainfather Brewing Community and then sync these recipes with the Connect app. The control box has Bluetooth connection to your mobile device so it can be controlled remotely. This allows you to multitask or simply relax while brewing and then be alerted when to return to your next step.
Features:
PID algorithm works in conjunction with a triac for more stable heating and so you can control power output
Programmable step mashing
Delayed heating - fill your Grainfather with water the night before and wake up to your water at strike temperature ready for brewing straight away
Change between celsius and fahrenheit easily
Waterproof graphic display
Use in manual mode or with app
Grainfather Connect App for Automation:
Features
Grainfather Grain Kit recipes provided in the app
Ability to import recipes (Beer XML files) - NOTE: iOS9 and higher
Set your own boil temperature (for different altitudes)
Change between celsius and fahreheit easily
Grainfather calculators provided in app
Create recipes on the Grainfather Brewing Community and then sync these with the Connect App to brew
NOTE: Required Specifications for the App are:
iPhone/iPad
Hardware: iPhone 4S or higher
Software: iOS8 or higher. Must have Bluetooth 4.0 or higher
Android 
Hardware: Android 4.3 (API Level 18) or higher
Software: Must have Bluetooth Low Energy (LE)/Bluetooth Smart
Pump:
A 6 Watt, 1,800 RPM magnetic powered pump has been fitted to recirculate the wort through the grain bed for maximum brewing efficiencies. This is also used during the cooling stage to pump hot wort through the wort chiller. The pump also makes the cleaning process quick and easy by pumping the cleaning detergent through all the pipe work. The magnetic drive pump has been selected after rigorous testing of multiple pump styles to ensure it meets the tough demands required of continuous brewing. The pump is concealed by a stainless pump cover, which is easy to pop open, giving you direct access. A pump filter is fitted inside the Grainfather to prevent hops and stray grain from entering the pump or pipework, keeping the wort clear while also preventing any blockages.
Grain Basket
A stainless steel expandable grain basket allows you to brew with anything from 4.5 – 9 kg of grain. The fitted perforated plates and telescopic pipework allow you to easily adjust the size of the grain basket to suit the size of grain bill. Fit the Micro Pipework (sold separately) for grain bills below 4.5 kg. When ready for sparging, a basket lifting handle is then inserted into the grain basket to lift it up, out of the wort. A 45 degree turn then allows the grain basket's feet to rest on the specially designed support ring to allow the grain basket to drain while you can batch sparge over the top. A Sparge Water Heater can be purchased additionally to heat your water to the specific temperature required.
Counter Flow Wort Chiller
A counter flow wort chiller has two connection points. One side is connected to the Grainfather, while the other is connected to the cold tap water. The hot wort is then pumped through copper inner coil while the cold water is pumped through the outer in the opposite direction, providing instant cooling and heat exchange. The cooled wort can then be pumped directly into your clean, sterile fermenter. This reduces the chance of contamination as nothing is inserted in the wort, and it is only passing through the wort chiller one single time, going straight to the sterile fermenter where the yeast is added. 23 L of wort can be cooled in as little as 20 minutes. The cooled wort temperature will be cooled to approximately 5 degrees above whatever your tap water temperature is.

CONICAL FERMENTER FEATURES: 
The Grainfather Conical Fermenter Pro Edition and Glycol Chiller allows you to control the heating and cooling for your unit with the Glycol Chiller, dump yeast, take samples and transfer your wort via our innovative dual function valve design.
Double Walled: A stainless steel double walled skin is filled with a thick layer of polyurethane foam for insulation. This is what keeps the wort at a constant stable temperature with minimal influence from any external environmental temperature changes, providing insulation for your fermentation that a standard jacket cannot achieve.
Integrated Gentle Heating: In the cavity of the fermenter between the outer body and cone sits a 30 Watt, 12V heating element. Unlike standard heating elements/sources that directly heat the liquid, this heat source is designed to heat the environment in between the walls of the fermenter, which in turn heats the liquid. It is similar to controlling the temperature in a temperature controlled room. The fermenter acts as an artificial environment which can be heated, meaning the temperature is raised in an even and controlled manner which is much better for the yeast.
Integrated Cooling Sleeve: In between the two stainless steel walls sits a cooling sleeve (also made of stainless steel). This cooling sleeve is welded onto the inner wall of the fermenter and can be hooked up to the additionally purchased Glycol Chiller. Temperature is dialed into the Temperature Controller and as the cooling liquid travels through this sleeve, it cools the stainless steel which in turn evenly cools the beer in the fermenter. The cooling sleeve never comes into contact with the beer, it is completely concealed, built into the fermenter and never needs cleaning or sanitising - a true innovation for a fermenter of this scale.
Easy Access to the Interior for Hassle Free Cleaning: The Grainfather Conical Fermenter has a smooth interior with no additions such as cooling coils or additional sampling valves meaning it is easy to clean and minimises the risk of infection.
Golden Angle Conical: The conical shape of the fermenter is typical for professional breweries. Our conical has been designed with the 'Golden Angle' of 60º. This is the optimum angle for yeast and sediment to drop down to the bottom of the cone without getting stuck to the sides, allowing you to transfer from above the sediment line, resulting in clearer beer. The conical shape also allows for better mixing during fermentation due to the path of convention currents that it enables to occur.
Dual Valve Tap: Make the yeast dumping, transferring and sampling process more professional with this innovative all in one valve. Sampling and transferring is done through an inlet above the sediment line, allowing for clear, sediment free beer. Easily collect your yeast from below the sediment line with the same unique valve for recultivating and pitching. The innovative design of the valve allows for this dual functionality and less cleaning for you.
Temperature Control: The Temperature Controller easily snaps on via magnets and pogo pins. Allowing you to accurately dial in a temperature and even set a temperature schedule/profile (you can set up to 4 profiles each with 5 stages). It can control the heating of the integrated heating element and the cooling with the Glycol Chiller.
GLYCOL CHILLER FEATURES
Allows you to cold crash 23 L (6 US Gal) of wort to as low as 4-6ºC (39-43°F). Minimum temperature will vary based on external factors such as ambient room temperature, the number of fermenters connected and other environmental conditions.
Cools and powers up to 4 Conical Fermenters at different temperatures and fermenting schedules.
Includes bonus Conical Fermenter Coat and propylene glycol to get you efficient cooling for your fermenter right away.
Grainfather Connect Specifications 
304 Grade stainless steel body
220 - 240V
30 L Capacity
Expandable grain basket to suit grain bills up to 9 kg
A robust magnetic drive pump (6 watt, 1800 RPM) 
Counter flow wort chiller which can cool wort to less than 20°C within approx 20-30 minutes.
Tempered glass lid for maximum durability, heating efficiencies and visibility during your brew day.
Clips to easily convert your Grainfather into a home distillery with the Pot Still Attachments
Required Specs for App:
iPhone/iPad
Hardware: iPhone 4S or higher 
Software: iOS8 or higher. Must have Bluetooth 4.0 or higher
Android 
Hardware: Android 4.3 (API Level 18) or higher
Software: Must have Bluetooh Low Energy (LE)/Bluetooth Smart

Conical Fermenter Pro Edition Specifications 
Conical Fermenter 
Fermenter Lid
Rubber Bung
Bubbler Airlock
Cone Plug
Cone Plug Seal
5 cm (2") Tri Clamp
Digital Temperature Display
Power Adapter and Wall Plug
2 m (6.5 ft) M12 3-Pin Power Cord
Dual Valve Tap
Digital Temperature Controller

Glycol Chiller Specifications 
Glycol Chiller
Wall outlet power cord with plug
2 x cooling connection couplers
2 x 2 m (6.5 ft) insulated hoses
Conical Fermenter Coat (2 parts: body & cone jacket)
1 x Glycol Funnel
1 x silicon tube for priming pump
1 x 3 L (3 US qt) propylene glycol
NOTE: When you receive your unit, you will need to fill it up with a propylene glycol mixture. Refer to the instructions provided with the Glycol Chiller for mixing, filling and pump priming information.