7 Litre Traditional Fruit Crusher / Shredder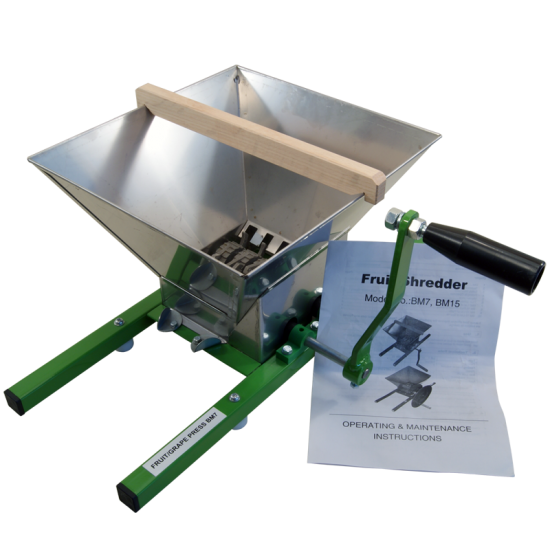 7 Litre Traditional Fruit Crusher / Shredder
Traditional Style, Manual Operated Fruit Crusher With Hopper Capacity Of 7Litres
Dimentions: 310mm x 335mm x 235mm
Steel Construction, Comes With Operating And Maintenance Instructions
Simply Place onto a Suitable Container, Fill With Fruit, Rotate the handle To Crush The Fruit. Juice And Pulp Will Fall Into Container Below.
Tony's Tips
 I have often used document shredders (and occasionally caught my tie in there!) but never personally used any fruit shredders. This is a heavy duty manual fruit shredder/Crusher, quite unsuitable for paper documents, and is widely used  mostly for Grapes and Apples.
Cider and Fruit Drink makers, tell me that this Traditional, Manual bit of Kit is well worth the investment. Other motorised versions are available to the professional fruit drink making trade, at a price of course, to match the additional engineering, but this simple and effective manual crusher/shredder  is very effective in doing its job, just be sure to keep any house pets,  your fingers or any other easily caught appendages away from its brutally effective; opposing, rotating, serrated, toothed cam crushing wheels so's not to trigger a trip to the hospital or worse still, contaminate your brew!
Now available for rental for callers at the Balliihoo Shop Unit in Cheddar - prices available on request.