Brewmaker Cider De Luxe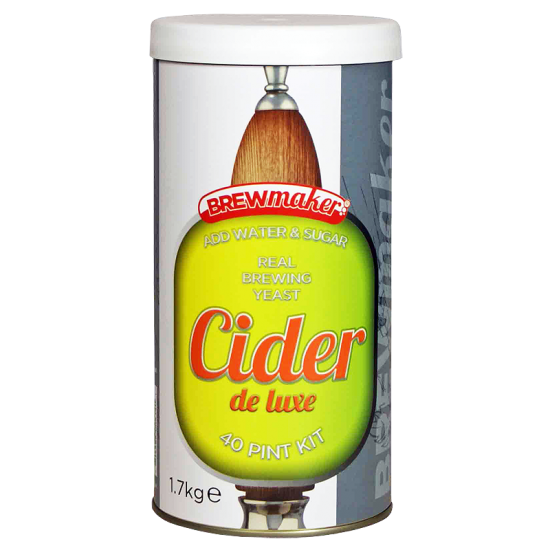 Brewmaker Cider De Luxe
Ex Tax: £16.35
or Buy 6 or more for £13.50 each
1.7Kg Kit, Makes 40 Pints of Quality Cider, Full instructions included.
Ready to drink in around 21 days - Fast Fermenting - Fast Clearing.
No Artificial Preservatives, Colourings, Flavourings or Sweetners.
Requires 1Kg of Brewing Sugar.
Tony's Tips
Real Ale fan turns to Cider!
I hadn't fancied Cider since I naively over "Scrumped" myself one night in Padstow, Cornwall. Now I have at last recovered from that evening 35 years ago, I am happy to say that Cider is again on my home-brew list! Brewmaker Cider De Luxe offers exceptional quality, strength and flavour, is easy to brew and can be enhanced to produce a sweeter taste much like the commercial varieties like Magner's  by adding pure apple juice (concentrate is fine) in place of an equal quantity of water or when serving, or, Maybe a spoonful of wine sweetener will take away any dryness if you like a sweeter taste. If bottling, Cooper's Carbonation Drops ensure more sparkle if you prefer.