Solomon Grundy Classic 6 Bottle - Medium Sweet White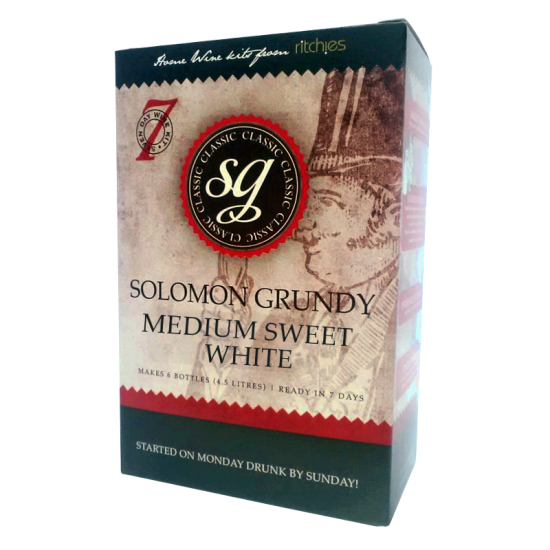 Sold Out
Solomon Grundy Classic 6 Bottle - Medium Sweet White
Ingredients To Make 6 Bottles Of Medium Sweet White Wine
Ferments In 7 Days & Comes With Full Instructions.
Kit Includes - 1 x Grape Juice Concentrate, Yeast, Nutrients And All Other Ingredients
You Will Require 600g Of Sugar Or Brewing Sugar, Basic Brewing Equipment For 6 Bottles Of Wine.
Tony's Tips
This quality wine is very popular due to its "Ready to Drink in 7 Days" promise combined with the relative ease of production. As the old Nursery Rhyme goes "Born on a Monday . . . . Christened on a Tuesday, etc. etc. . . . . forget the Saturday and Skip a few weeks ahead! It is true to say that the wine improves when left  to mature for a few weeks in the bottle, but this is not everyone's cup of tea! There are those (possibly impatience being the trigger!) that prefer the sharper tangier finish of a freshly bottled wine to the more rounded softer matured style, all a matter of choice. French Oak Chips, not included in this kit  added to the must at the start of fermentation can produce a more complex finish to the wine . . . . it's all a matter of personal choice . . . . Keep experimenting, and be sure to take notes!