California Connoisseur 6 Bottle - Johannisberg Riesling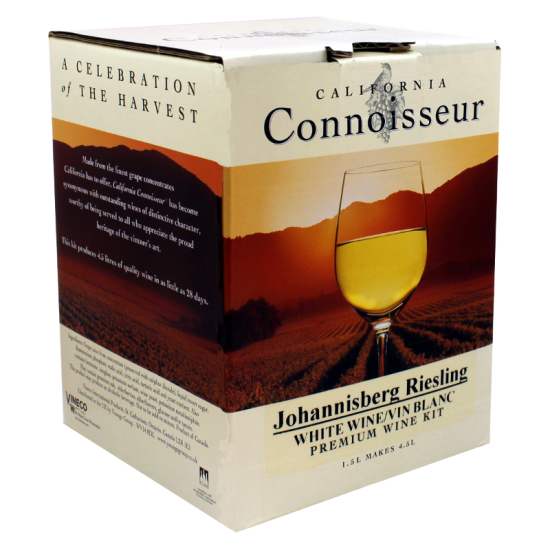 California Connoisseur 6 Bottle - Johannisberg Riesling
Home Wine Kit Makes 6 Bottles of Quality Johannisberg Riesling White Wine.
Makes A Light, Fresh Wine With A Flowery Bouquet. A Light Bodied Wine With The Fruity Flavours Of Lime, Apricot And Honey. Includes Died Elderflowers

Alcohol : 11.5% - Body : Light - Oak : None Included
Basic Home Brewing Equipment and Bottles Required, Full Instructions Included.
All Ingredients Included, no extra sugars required.
Tony's Tips
California Connoisseur wines are all superb and often rate well above  wines bought at the supermarket! Just follow the exact instructions to the letter, watch the fermenting temperature 22c - 25c or as suggested and later the "cellar" or storage temperature which ideally should remain a constant coolish 15c in a darkish place.
One worthwhile tip is to thoroughly de-gass the wine when prompted by the instructions, as often as possible over a 24 hour period, a cylindrical wine fermenter is best used for this essential operation by briskly rolling the contents to quickly and easily remove the naturally produced Carbon Dioxide. (Make sure the fermenter cap is solid or firmly stopped!).