VinClasse Rose 23 Litre - 7 Day Wine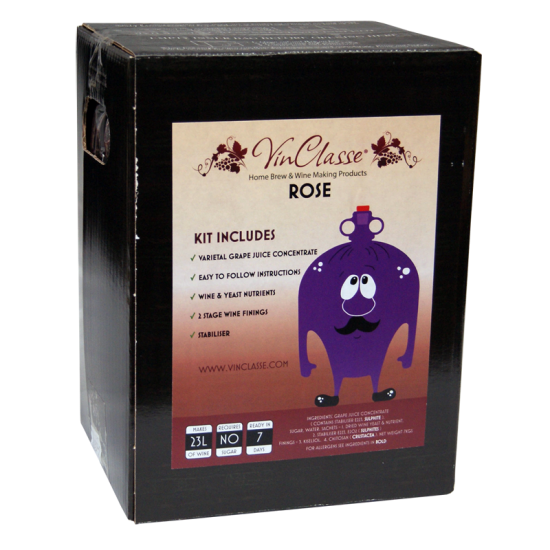 VinClasse Rose 23 Litre - 7 Day Wine
Ex Tax: £34.09
or Buy 2 or more for £33.99 each
Makes 23 Litres / 5 gallons (Approx 30 Bottles) Of Quality Rose Wine - Ready To Drink In Around 7 Days & Will Improve Further Over Following Weeks.
VinClasse 7kg Wine Kits Contain Approx 7 Litres Of 100%, High Quality Varietal Grape Juice Concentrate, To Achieve A Well Balanced Wine, Near The Commercial Equivalent. No Additional Sugar Is Required.
Kit Includes Grape Juice, Wine Yeast / Nutrients, Stabiliser, Finings & Full Easy To Follow Instructions.
Requires Basic Wine Making Equipment & Bottles (Not Included).
Tony's Tips
30 bottles of premium quality wine in 7 days! . . . . VinClasse "Black Box" wines  are exceptional for taste, reliability and accuracy for  likeness to their commercial equivalent. "Mateus Rose" was my first introduction to the World of Wine in late 60's the distinctive  oval bottle and well established marketing ensured this Portugese brand became synonimous with Rose, dominant for years . . . . .  Rose wine was Mateus! . . . . how times have changed! today, there are many Rose wines to choose from; some almost Orange in Hue to Soft Pale Pink, some Light and Crisp others Full Bodied, all varying in alcohol strength. The produce from this kit,  is a Generic Rose of good quality made from Varietal grapes and may be adjusted to suit the palate, for example, with French Oak Chips at the start of the first fermentation (also available from Balliihoo) and then finally left to mature in the bottle for a few weeks . . . . Patience is a virtue!