California Connoisseur 6 Bottle - Rojo Tinto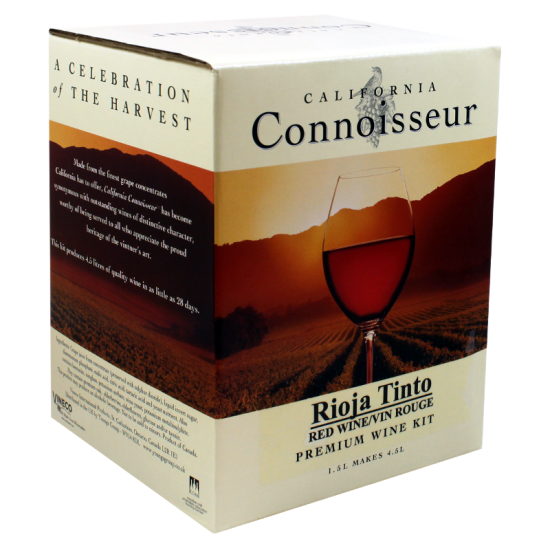 California Connoisseur 6 Bottle - Rojo Tinto
Home Wine Kit Makes 6 Bottles of Premium Quality Rioja Tinto Wine In Around 28 Days.
Spain's answer to Chianti, this deeply coloured wine has concentrated fruit with a medium body. Soft and mellow with moderate tannins.
Basic Home Brewing Equipment and Bottles Required, Full Instructions Included.
All Ingredients Included, No Extra Sugars, Yeasts Or Chemicals Required.
Tony's Tips
California Connoisseur wines are all superb and often rate well above  wines bought at the supermarket! Just follow the exact instructions to the letter, watch the fermenting temperature 22c - 25c or as suggested and later the "cellar" or storage temperature which ideally should remain a constant coolish 15c in a darkish place.
One worthwhile tip is to thoroughly de-gass the wine when prompted by the instructions, as often as possible over a 24 hour period, a cylindrical wine fermenter is best used for this essential operation by briskly rolling the contents to quickly and easily remove the naturally produced Carbon Dioxide. (Make sure the fermenter cap is solid or firmly stopped!).
The name Rojo Tinto may disguise the Spanish "Rioja" connection, I think they changed the name to protect the innocent! having said that, Rioja (Re-ock-er) is and has been, for as long as I can remember, my all time favorite full bodied red especially when slightly oaked.