Fermentis Brewing Yeast - Saflager W34-/70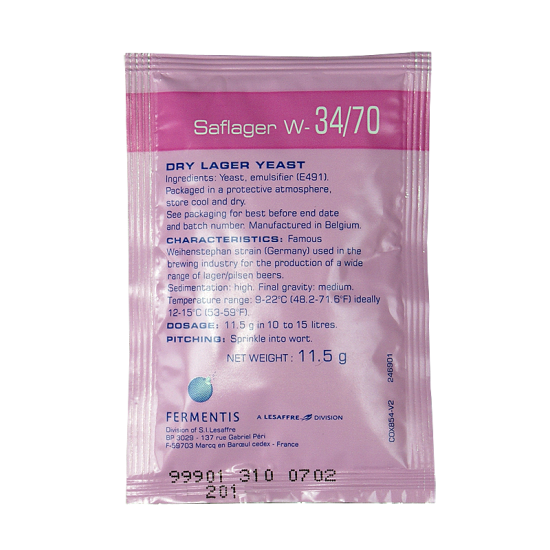 Sold Out
Fermentis Brewing Yeast - Saflager W34-/70
High Quality Dry Brewing Yeast Used In The Brewing Industry For The Production Of A Wide Range Of Lager / Pilsner Beers.
11.5 Gram Sachet In 10/15 Litres. Sprinkle Into Wort

Temperature Range 9 - 22C  Ideally 12 - 15 C
Tony's Tips
Saflager 34/70 yeast is the famous Weinhenstephan strain
. . . . . (who?) - German professionals choice of a wide range of Lager  Pilsen Beers owing to it's high sedimentation characteristics and natural ability to ferment effectively at lower than average temperatures typical of this Brewing style. Get the right yeast  . . . . enjoy the intended results! Tip: Hide it from your competitors and particularly other kitchen users who may use it to bake Bread or worse still Biscuits!