Balliihoo Complete Starter Set With Bottles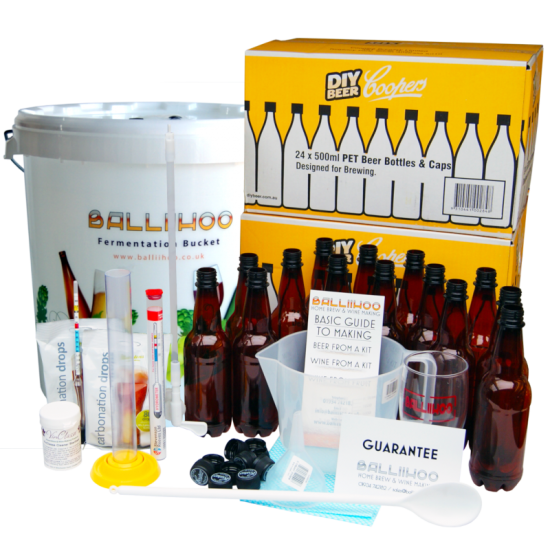 Balliihoo Complete Starter Set With Bottles
All The Equipment Needed To Make Your Own Quality, Professional Bottled Beers, Ales, Lagers or Ciders - Includes Basic Home Brewing Guide
Balliihoo Graduated Fermentation Bucket With Lid, Temperature Indicator And Handy Airlock - Complete With A Tap And Removeable Bottling Stick For Easy Transfer And Filling
Hydrometer and Trial Jar - 8 cm Funnel - Long Handled Spoon - Large Plastic Jug - 100g Tub Of Steriliser - Cleaning Cloth & Balliihoo Pint Glass.
48 Coopers P.E.T. (Ox Bar) Bottles - Traditional "Beer Bottle" Shaped, Reusable, Brown Plastic Bottles With Screw Caps. - Designed For Brewing, These Are The Most Popular P.E.T. Bottles Used For Beer In The Uk. Also Included Are 2 Packets Of Carbonation Drops For Easy Priming Of Your Bottles
See Our Other Items For A Choice Of Over 200 Different Types Of Lager, Cider, Stout, Beers & Real Ales. All Ingredient Kits Will Come With Specific Step By Step Instructions.
This Complete Kit Is Covered By The Balliihoo "No Quibble" One Year Guarantee.
Tony's Tips
It's surprising how many Bits and Pieces one needs at the outset when the decision to "Do A Homebrew" has been made! To remove the worry of forgetting something, this Balliihoo, Complete Homebrew Starter Equipment Kit with 48 Re-usable P.E.T. Bottles with  screw caps and Draw off tap with bottling stick is a great introduction to this wonderful Sport!
There are other things you will need like an Ingredient kit and possibly Sugar or Spraymalt and maybe accessories like a Heating Belt, but  this is all you, or your lucky Christmas / Birthday Present Recipient will need to get started today. Play your cards right and offer to help with the first few Brews and you may well recover your outlay by receiving "Very Drinkable" Goods in Kind!