Balliihoo Complete Starter Set - Best Seller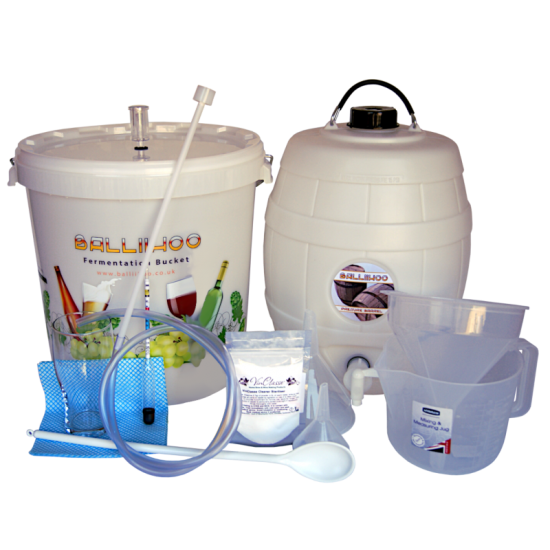 Balliihoo Complete Starter Set - Best Seller
All The Equipment Needed To Start Home Brewing With Instruction Guide - Suitable For All 40 Pint Beer/Lager Ingredient Kits.
Fermentation Bucket With Lid & Temperature Strip - Lid Comes With A Pre Fitted Grommet & Handy Airlock - Syphon Tube With Racking Cane - Hydrometer - 100g VinClasse Steriliser - Balliihoo Pressure Barrel With Temperature Indicator - Long Handled Mixing Spoon - Large Plastic Jug - Set Of 3 Plastic Funnels - 2 Non Abrasive Cloths & Balliihoo Pint Glass.
To Make Your First Brew You Will Require An Ingredient Kit & 1Kg Of Sugar, Brewing Sugar Or Spraymalt - See Our Other Items For A Choice Of Over 100 Different Types Of Lager, Cider, Stout, Beer & Real Ales. 
Tony's Tips
It's surprising how many Bits and Pieces one needs at the outset when the decision to "Do A Homebrew" has been made! To remove the worry of forgetting something, this Best Selling Complete Balliihoo, Homebrew Starter Equipment Kit is a great introduction to this wonderful Sport!
Use specially formulated, Pressure Barrel Seal Grease available from Balliihoo to ensure a good airtight seal with no fear of Contaminating the brew, there are other things you will need at the outset like an Ingredient kit and possibly Sugar or Spraymalt and maybe later on, accessories like a Heating Belt and a  Co2 top Pressure Valve System etc but this is all you, or  your lucky Christmas / Birthday Present Recipient will need to get started today. Play your cards right and offer to help with the first few Brews and you may well recover your outlay by receiving "Very Drinkable" Goods in Kind!