Basic Starter Equipment Kit For 30 Bottles Of Wine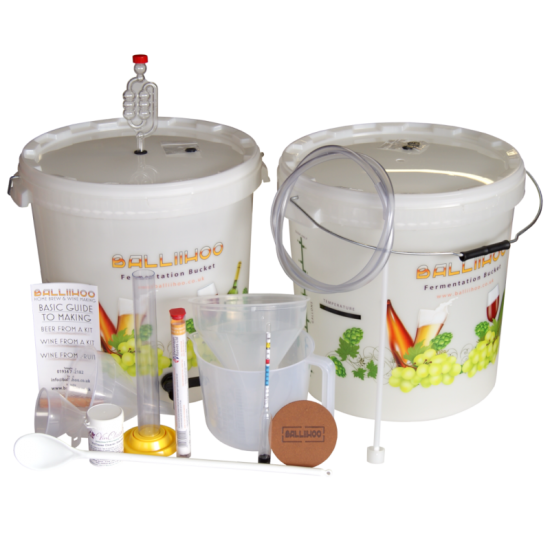 Basic Starter Equipment Kit For 30 Bottles Of Wine
This Kit Is All The Basic Equipment Needed To Start Home Brewing 30 Bottles Of Wine.
Suitable For Use With All 30 Bottle Wine Ingredient Kits (Not Included) and Larger Batches Of Home Made Country Wines and Ciders.
2 x 25 Litre Fermentation Buckets With Gromets, A Bubbler Airlock, LCD Thermometer Strips, One Of The Buckets Includes a Tap (For Easier Transfer and Bottling).
1.25m Syphom Tube With Racking Cane - 100gram Tub Of Steriliser - Hydrometer and Trial Jar - Long Handled Plastic Spoon - Plastic Measuring Jug - 3 x Plastic Funnels - a Balliihoo Leather Coaster.
Once Your Wine Has Finished Fermenting You Will Require Bottles, Corks and Corker Or Bag In a Box/Polypin Wine Dispenser (Not Included). Alternitavely You Can Save Your Own Bottles For Re-Use, Dont Forget To Keep The Caps!
Tony's Tips
Great Christmas Present! . . . . In fact, a  Great Gift at any time of Year, especially for the Person who has been thinking about Making Wine for a while but just needs a simple and quick "All Inclusive" Package to get started; in which case buy 4 kgs of Brewing Sugar along with a 30 Bottle Wine Starter Set and maybe a Box of 30 wine Bottles with Corks and a Cheap Basic Hand Corker, Self Adhesive Labels and a Marker Pen (all available from Balliihoo) then they'll have no excuse to do it! Now, Play Your Cards Right! . . . . Attach (with love), a nice card wishing them every success in their wine making venture and a friendly offer of your unconditional help if required, and hopefully, you'll be given sufficient bottles of Wine made from this wonderful gift to recoupe the cost!. . . . Remember, at an equivalent shop price of £5 - £6 per bottle your gift to this particular individual may cost you effectively Zip!  . . . . . . . That's a Gift!