Stevenson Reeves Spirit Hydrometer / Alkohometer 0-100%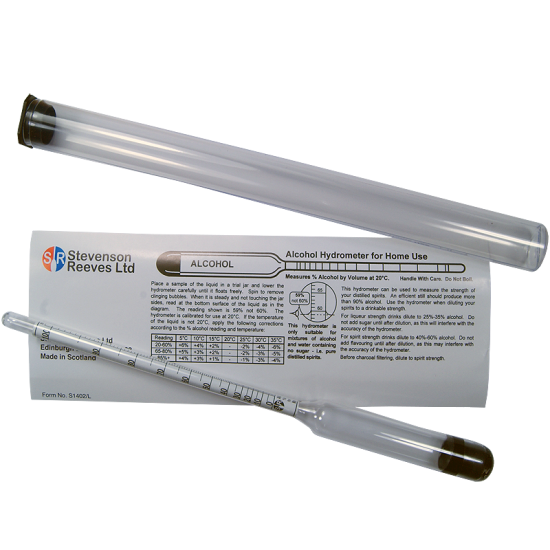 Stevenson Reeves Spirit Hydrometer / Alkohometer 0-100%
Glass Spirit Alcohol Meter.
Comes In a Protective Plastic Sleeve - With Instruction Sheet.
This Alcohol Meter Is Intended For Spirit Only (A Pure Alcohol/Water Mix Without Sugar Or Other Extract Substances). It Will Not Work For Wine, Beer, Liqueur Turbo Yeast Wash Etc.
Tony's Tips
Use  this Alkohometer for spirits only, . . . . Oh yes, and don't leave it lying around to roll off the counter top or brewing shelf as I did a few days ago (even in its protective case) once smashed, unlike us humans, it doesn't recover! . . . . . Oh and Yes, keep a Spare! just in case someone else lets it roll off the shelf . . . . they're inexpensive and essential for measuring the strength of your latest Moonshine!