SPECIAL OFFER - VinClasse Rose Blush 23 Litre - 7 Day - Sugar Required Ingredient Kit - Expired BBE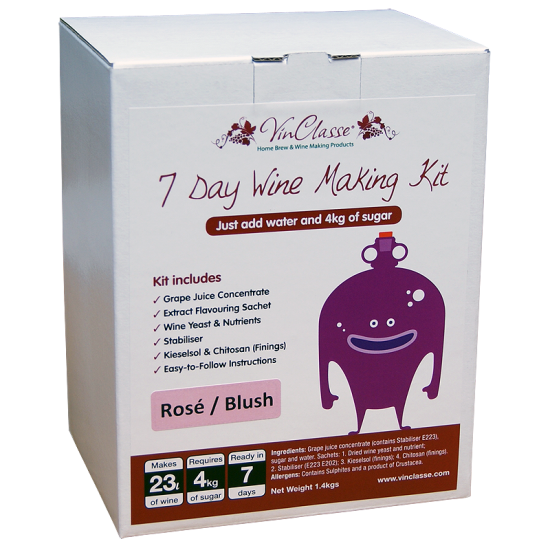 Sold Out -37 %
SPECIAL OFFER - VinClasse Rose Blush 23 Litre - 7 Day - Sugar Required Ingredient Kit - Expired BBE
Usual Price £20.45 - Reduced to £12.99 - On Special As expired BBE (05/21) And Damaged Box
With Any Expired Date Ingredient Kits, The Yeast Is Always The Most Date Sensitive Item, So We Reccomend Having A Current Dateed Yeast Sachet In Resere.
Makes 23 Litres / 5 gallons (Approx 30 Bottles) Of Rose Blush Wine - Ready To Drink In Around 7 Days & Will Improve Further Over Following Weeks.
VinClasse 2kg Wine Kits Contain Approx 1 1/2 Litres Of 100%, High Quality Varietal Grape Juice Concentrate, To Achieve A Well Balanced Wine, Near The Commercial Equivalent. You Will Require 4kgs Of Additional Sugar
Kit Includes Grape Juice, Extract Favouring, Wine Yeast / Nutrients, Stabiliser, Finings & Full Easy To Follow Instructions.
Requires Basic Wine Making Equipment & Bottles (Not Included).