Plastic Beer Bottle Crate - Black - Holds 20 Bottles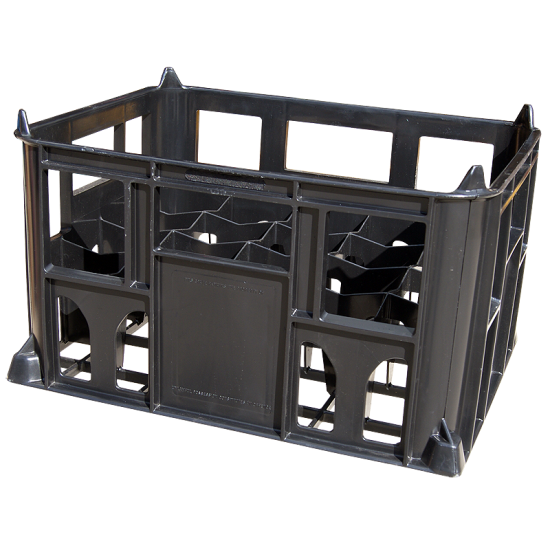 Sold Out
Plastic Beer Bottle Crate - Black - Holds 20 Bottles
Ex Tax: £11.70
or Buy 6 or more for £9.25 each
Constructed From Thick Plastic These Crates Are Extremely Robust

Holds Up To 20 x Traditional Size 9" High Beer Bottles For Safe and Easy Storage And Stacking.
Our Balliihoo Beer Bottles Do Fit These Crates, But Please Check Your Bottle Stock For Height As There Is Now An Ever Increasing Number Of Different Size & Shape Bottles Available. If You Want To Stack The Crates The Maximum Total Height For Bottles Is 23 cm 
Not To Be Confused With Milk Bottle Crates Which Are 8" Deep, Too Short For Standard 9" High Beer Bottles And Will Not Stack Safely
Dimensions: L 44.7cm, W 35.5cm, H 26.5cm (Maximum Bottle Height For Crates To Be Stackable 22.5cm)

Tony's Tips,
Now here's a useful device for carrying 20 beer bottles at a time for stacking in an infinitesimal vertical pile! . . . . . I could have done with 10 of these at the last stag do I attended, at a Hot-Rod Festival and Camping Weekend, along with 29 of the Groom's mates  where the event Beer was so expensive it made sense to brew 240 bottles of Ale and Lager in advance (only 8 pints each!) and carry them in . . . . . unfortunately, the homebrew was not allowed in the arena but would have stacked beautifully under the cover of darkness with these crates in our own vertical Loo-tent out of sight of the Festival Police! but without the means to easily carry and stack 240 Chinking, Clanking Glass Beer Bottles in silence the beer was impossible to store in the campsite so it was kept nice and warm half a mile away in our parked cars . . . . . You need a drink after a 1 mile return walk like that! . . . . still, Happy Daze was had by us all.