Youngs Definitive Lager - 1.5Kg 40 Pint Ingredient Kit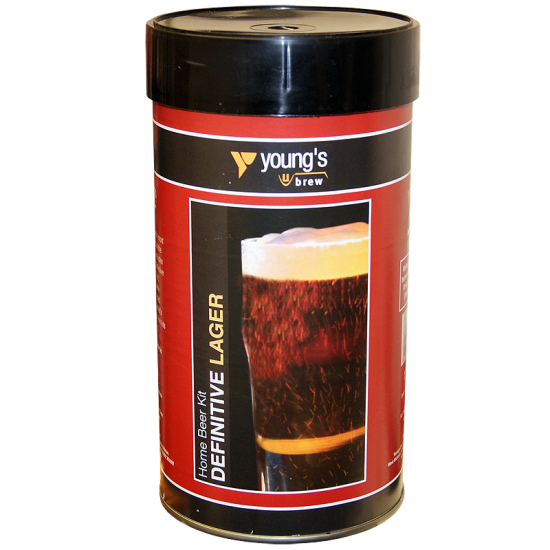 Youngs Definitive Lager - 1.5Kg 40 Pint Ingredient Kit
1.5 Kg Malted Barley Extract Ingredient Kit - Makes Up To 40 Pints.
Comes With Full Instructions & Yeast Sachet (Under Lid).
Requires Homebrewing Equipment & 1Kg Sugar Or Brewing Sugar (Not Included)
Tony's Tips
The difference between a basic kit like this Young's Definitive Lager and costlier double can kits is there's more scope to create your own brew. If like me, you enjoy experimentation  with your brewing (and consequential results!)  add extra ingredients such as: Dry Hops, Improved Yeast, Malt Extract, Beer Kit Enhancer, Various Spraymalts, in addition to, or in place of, Granulated Sugar, there really is no limit on choice (or cost!) when having fun brewing. As always, take accurate notes to maintain your favourite brew's character, it may bear your, or someone else's name one day! for example, a car enthusiast  may well create bespoke, personalised lagers or beers called "Pete's Petrol Injection", "Doug's Diesel", "Eugine's Engine Ale", "AA = Adam's Anti-freeze", "Tony's Turbo Oil",  "Will's Warning Light" or "Vick's V-sign" - get the idea? There's no end to the fun you can have, but avoid "Duncan's Dipstick", or "Bob's Breakdown"  resulting from keeping poor notes and you will make a good name for yourself with these personalised, adjusted cheapo kits!