S30 Stainless Steel Co2 Injection Valve (Non Piercing Pin Type)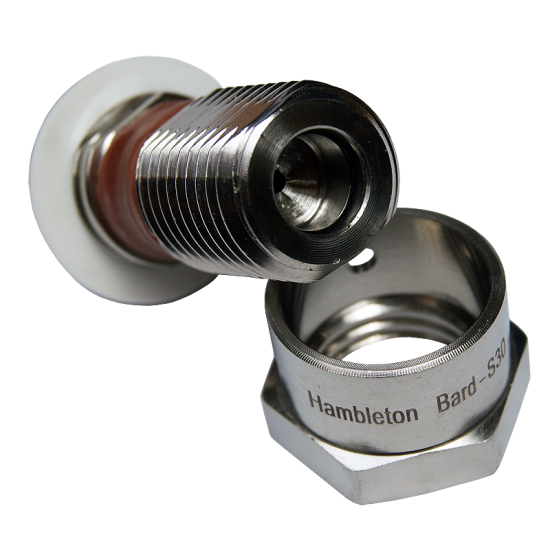 S30 Stainless Steel Co2 Injection Valve (Non Piercing Pin Type)
Genuine S30 Co2 Injection Valve (Non Piercing Pin Type)
For Use With Hambleton Bard's S30 Cylinders.
Not Suitable For 8g Bulb System
Tony's Tips
These Stainless Steel S30 Injection Valves with pressure release come as "Standard" shown here, without Piercing Pin for use with the S30 Screw on CO2 Cylinder that I've successfully used for years, or with the Piercing  Pin for the 8 gram CO2 Bulb Injection System. I must say, I now find the Bulb Injection System more beneficial, as replacement bulbs are more easily and  economically sent by mail order and the barrel requires less headroom for recharging. Be careful to look after these precision engineered S30 Injection Valves by not exposing them to Sodium Metabisulphite Steriliser, the liquid and fumes of which can corrode the metal,  and may result in tainting the flavour of the brew.
Fitting the Valve in 2" or 4" caps

These S30 valves are well made in shiny stainless steel and are a good deal stronger than the plastic Barrel Caps in which they are inserted and fixed.
It is therefore necessary to use TWO Spanners to tighten the securing nut  so as not to depend on the flat sided hole in the soft plastic cap to prevent rotation of the valve as the nut is tightened.
To do this without  shearing the cap hole and causing leakage,  hold the larger spanner on the securing nut while the smaller spanner holds still the straight sided threaded shaft of the S30 valve above. Now gently tighten the nut so that the rubber washer is in firm contact with the cap and valve flange inside the cap.
Be careful not to over-tighten the valve as the rubber washer may be distorted and dragged out of shape risking leakage. The washer can be smeared with Balliihoo Food Safe Seal Grease to safely prevent leakage.