Grainfather (Connect) - All In One Brewing System With Connect Control Box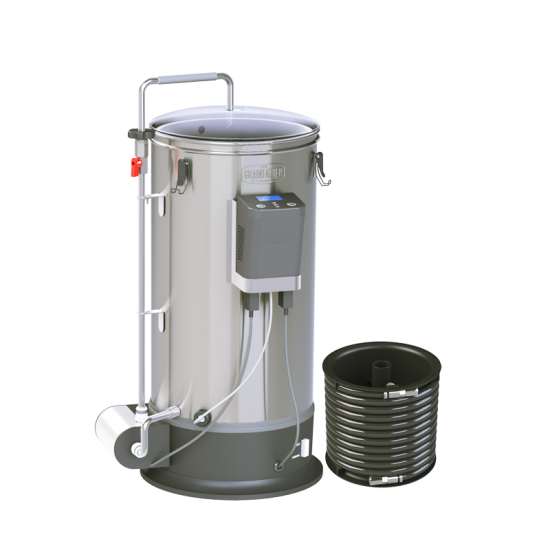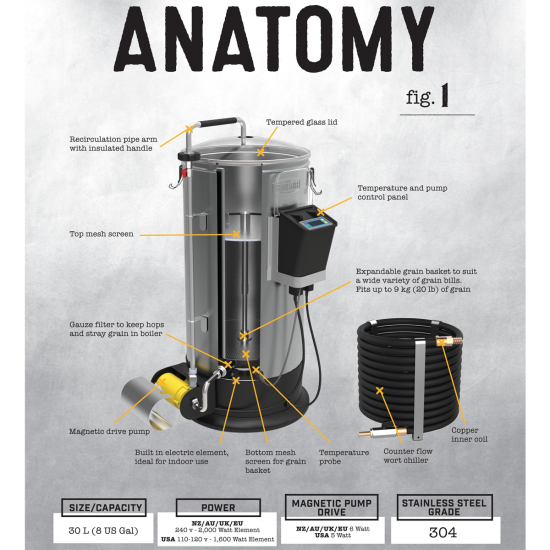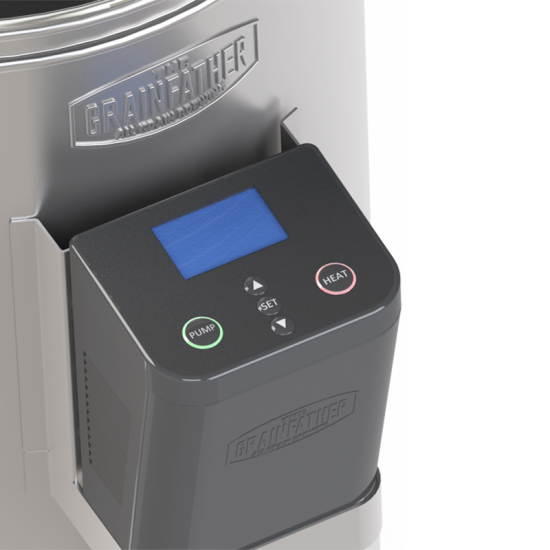 Grainfather (Connect) - All In One Brewing System With Connect Control Box
The Grainfather is your all in one brewing system to make beer from grain. The sleek look, user friendly design, and innovative features, make this your perfect brewing companion for both new and experienced all grain brewers.
The latest Version Includes Connect Controller As Standard (Which Allows You To Connect With The Unit From A Smart Phone Via The Grainfather App) If Desired. (See More Details Of The Control Box And App Below)

304 grade stainless steel superior body, with 30L (8 US Gal) capacity   
Expandable grain basket to suit grain bills up to 9kg   
A robust magnetic drive pump (6 watt, 1800 RPM) and wort recirculation pipe with insulated handle, ensuring consistent tempratures throughout the mash and maximising efficiencies   
Pump filter to keep hops and stray grain in the boiler, and your wort clear and bright   
Counter Flow Wort Chiller with copper inner coil, cooling your wort to <24°c within 20mins   
Toughened plastic control box and display screen, giving you total tempetature and pump control. Dial in the exact temperature for your mash, allowing both step mashing and single temperature mashing with very fast ramp up between steps   
Dual heating element (2000 watt and 500 watt elements) allowing you to switch between heating quickly to a vigorous boil and maintaining a stable temperature   
Tempered glass lid for maximum durability, heating efficiencies and visibility during your brewday   
Top and bottom mesh screens for your grain basket, allowing even distribution of your sparge water and ensuring no grain enters the boiler  
1 year full product warranty   
Brewing support direct from the manufacturers   
Control Box Features:

• Bluetooth connection to your mobile device so it can be controlled remotely
• PID algorithm works in conjunction with a triac for more stable heating and so you can control power output
• Programmable step mashing
• Delayed heating - fill your Grainfather with water the night before and wake up to your water at strike temperature ready for brewing straight away
• Change between celsius and fahrenheit easily
• Waterproof graphic display
• Lugs at rear which can be changed to suit any Grainfather currently on the market
• Use in manual mode or with app

App Features:

• Grainfather Grain Kit recipes provided in app
• Import Beer XML files
• Set your own boil temperature (for different altitudes)
• Change between celsius and fahrenheit easily
• Grainfather calculators provided in app
NOTE: The android app is currently in development, temporary version available, check Grainfather Facebook page for current update)
Tony's Tips

The Grainfather is not in any way a gimmick or an expensive fun toy for seriously dedicated, or seriously well off home-brewers, it is a fully functioning versatile brewing partner which will keep everything in one place, saving you time, space and frustration, and what's more produce superior results every time. The all steel Grainfather is easy and fun to use and unlike a lot of Human Beings, 100% reliable.
Now, we need a good cost justification to introduce this new efficient, hardworking Brewer to a possibly Doubtful and Bewildered Household!
Well, you may consider the Grainfather as one of the Family, your brewing partner who willingly and effortlessly accomplishes its task by producing fine results without shouting or throwing Tantrums, plus,The Grainfather doesn't need constant monitoring, watching or even paying to do a good job.
The initial, (very reasonable, in my opinion) outlay can be recovered in as little as 6 months to a year, when your luscious Home-Brew minimal cost is compared with that of often bland and uninteresting but pricey Pub Beer or Lager. For example, assuming you purchase just one pint of Beer or Lager each day, at an average price of £3.50 per pint, the cost over a year is a staggering £1,277!   It begs the question: is just one Grainfather Brewer enough?  Why not keep one for Spirit Washes (legal in the UK without distilling up to typically 21% – 23% ABV) and another for Ales and Lagers.
To further boost your financial justification for your Grainfather, think of  a "classy" microbrewery name to launch your Alcoholic Beverage Creations such as; "Brew-U-Like", or "Grogs-R-Us", and invite friends, family, visiting strays and vagabonds throughout the year to turn out their pockets to donate towards a bottle or two of your all Year Round Regular "Royal Brew", or Luscious "'Lectric Lite" Summer Ale, not forgetting your Outstanding "Owd Codger Dark Winter Ale" all made from pure natural materials, no pipe cleaner, no added chemicals, and  no colouring, artificial sweeteners or preservatives. See the Flaked Wheat, Barley and Oats and Black Malt now in stock at Balliihoo for loading this system with high quality natural ingredients.

So, write up a good cost justification clearly highlighting the masses of essential benefits to acquire this new welcome addition to your family the Grainfather! without the usual understandable objections of parting with family savings merely for your own greedy self indulgence!
These Videos show the full potential and ease of using the Grainfather.